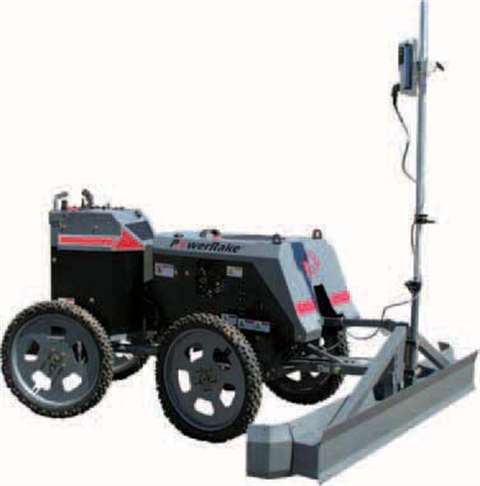 Both ConExpo, organised by the US Association of Equipment Manufacturers (AEM), and World of Concrete, organised by Hanley Wood are well established in the calendar of construction equipment exhibitions. Now the two organisations have joined forces to launch a new show for the Asian market, and the combined ConExpo Asia and World of Concrete Asia will open its doors in Beijing, China for the first time next month.
The majority of exhibitors will be US companies, supplemented by Chinese manufacturers, including Xuzhou Construction Machinery Group (XCMG) and Guangxi Liugong, and others from around the world. According to the organisers, more than 200 exhibitors have booked stands at the show, which will also include seminars and demonstrations, and around 25000 attendees are expected.
Terex Construction Equipment had not finalised the complete list of construction equipment it will be displaying at the exhibition as IC went to press. But the company confirmed that its 5.1 tonne SKL 834 wheeled loader, 4.9 tonne HR 18 mini excavator and either the TX-870B, TX970B or 820 backhoe loader will feature on its stand.
Trimble first launched its Site Positioning Systems into China in 2003 but will be demonstrating the system's latest additions at ConExpo Asia. New products include the new SPS880 GNSS Smart GPS Antenna and the SPS850 Receiver, which are able to track the next generation GPS L2C and L5 carrier signals. Visitors to Trimble's stand will also be able to see its latest Grade Control Systems, from the laser based GCS300 and sonic based GCS600 through to the 3D automatic GCS900.
Trimble will also present the Conventional Machine Control System offered by its sister company Spectra Precision Laser. The show will be used as the launch pad for Spectra's Conventional Machine Control system, which can be used on a wide range of machines including dozers, scrapers, skid steer loaders, mini excavators and backhoe loaders.
Road Building
Power Curbers and Power Pavers will also be exhibiting at the event and will be promoting Power Pavers' SF 2700 concrete paving machine and Power Curbers' 5700-SUPER-B. The SF 2700 can pave roads up to 9.76 m wide with integral curbs on one or both sides. It can also pave up to 406 mm deep, and can vary the depth on the move without interrupting the paving process.
The 5700-SUPER-B curb and gutter slipformer has a hydraulic mould lift that allows it to be used for forming barrier and parapets, as well as curbs and gutters. The machine itself can provide 3 ft (0.91 m) of lift but the hydraulic lift allows the mould to be raised by a further 2 ft (0.61 m), making it easy to manoeuvre and clean.
Road maintenance equipment manufacturer Cimline will be launching its new 230 gallon (870 litre) Dual Heated Hose Melter Applicator with integrated heath lance at ConExpo Asia. The 230 DHDC is the first of the company's Generation II Magma Series to combine an air compressor and heat lance, and enables operators to carry out crack cleaning and sealing in one process.
Other equipment
Genie's stand will feature a wide range of its powered access equipment, including the Z-45 articulating boom, S-80 telescopic boom, GTH-636 telehandler, GS-1930 scissor lift and the TML-4000N light tower.
Canada-based Fraco will launch its FRSM-1500 mast climber into the Chinese market at the show, which will be displayed alongside its existing range. The FRSM-1500 has a 650 kg lifting capacity at a speed of 4.1 m/minute and can be assembled by hand, without the need for a crane, in less than 30 minutes.
Atlas Copco will be promoting its new Silenced ROC surface drilling rig – the ROC D7 C, which reduces the noise produced by drilling by more than 10 dB(A). The design of the ROC D7C includes components selected specifically to reduce the overall noise level, but the most noticeable difference from a standard rig is the hood that covers the mast.
Multiquip will be launching two new walk-behind power trowels, which are part of the Whiteman range. The 110 kg BA-4-8H is powered by a 6 kW engine and has a diameter of 1.17 m and a variable rotor speed of 60 to 125 rpm. The 0.9 m diameter JA-4-5H has an operating weight of 68 kg and its 4 kW engine delivers rotor speeds of between 60 and 100 rpm.
Somero's stand will feature its new PowerRake, which is a laser controlled four wheel drive ride-on raking systems designed to speed up preparations for screeding. The company will also be presenting the CopperHead XD 2.0, designed for extra duty concrete placement, for the first time in Asia.
Components
Caterpillar Electronics and Electrical Systems will be launching a number of new products at ConExpo Asia. Cat's new Work Area Vision System is designed to improve operator awareness of surroundings and features a cab mounted 178 mm colour LCD screen and is available with either a 115° panoramic or 78° standard cameras.
Cat's other new products include a new graphical LCD display unit, the Application and Configuration Environment Software tool to graphically connect software elements, the A5:M2 ECU for off-highway equipment and the A2:M1 compact remote I/O controller for electro-hydraulic or machine control systems.
BLS Enterprises will be presenting its Poly Bolt-On track pads for asphalt milling machines and finishers. The pads feature an easy installation and removal system, which takes up to -50% less time to fit or remove compared to conventional systems.
Hercules Bulldog Sealing Products will be exhibiting its range of hydraulic and pneumatic seals, seal kits and components for mobile and industrial applications.
Valley Blades will be launching the ABAS Floating Blade System for snow ploughs at ConExpo Asia. The system uses shear stressed rubber to allow each blade to move with linear and rotational motion and ensure constant contact with the road.
Vansco Electronics will be unveiling the latest addition to its electronic, electromechanical and electrohydraulic product range at the show. The multiplexed Vehicle Electrical Centre is a networked controller and power distribution module designed for a wide variety of applications, including construction equipment.
Italy-based Rulmeca Group will be presenting its range of rollers, motorised pulleys and components for belt conveyors at ConExpo Asia.