Goldhofer showcases versatility
Specialized transport equipment manufacturer Goldhofer showed the AddDrive 6, a six-axle version of the system used to combine trailered and self-propelled modules in one vehicle, on its stand at the Intermat construction equipment show in Paris.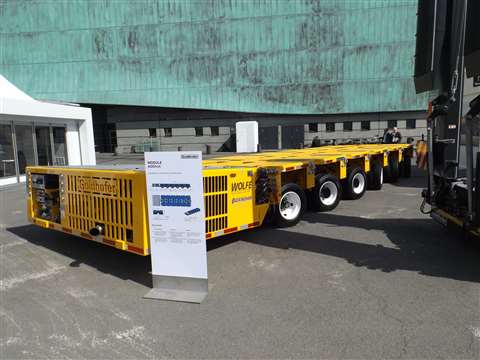 AddDrive can be installed in trailer and semitrailer combinations, for example, with drop decks and long-load turntables. The drive can be selected via radio remote control to give a maximum travel speed or extra traction, according to conditions.
Goldhofer is also displaying the STZ-L4 trailer with wheel recesses. It is designed to carry large self propelled construction equipment where the wheel recesses in the bed of the trailer reduce the overall height. The STZ-L4 can also quickly be converted so that the deck is level to accommodate tracked vehicles or other large and heavy loads. Payload is 43 tonnes or by adding MPA technology it increases to 50 tonnes, where regulations allow.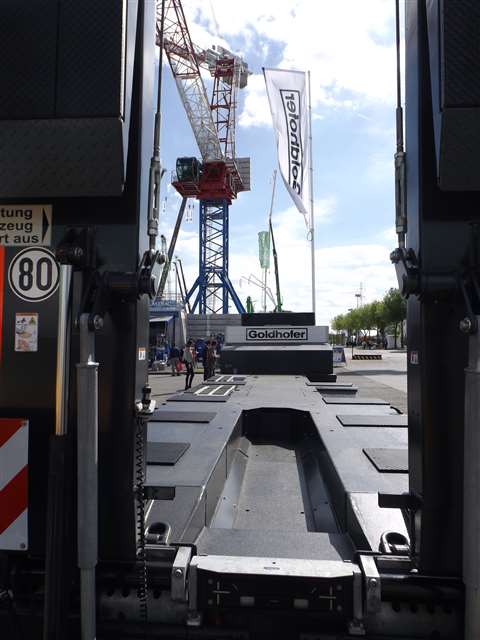 According to Rainer Auerbacher, Goldhofer international sales director, "As one of the global market leaders in the field of heavy duty road haulage and oversized cargo transportation, we will be presenting our regular customers and new prospects with two vehicle concepts which have one thing in common: the versatility needed for full and effective support in the face of today's demanding requirements in the construction and engineering industries."