Bam to build German bank offices
By Sandy Guthrie23 July 2018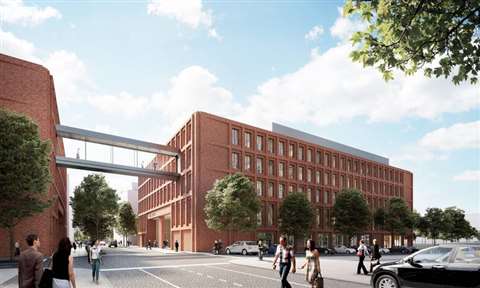 Bam Deutschland has been awarded the contract for construction and maintenance of the central offices of Investitionsbank Schleswig-Holstein (IB.SH) in Kiel, Germany.
The German non-residential operating company of the Dutch-based Bam Group and its subsidiary Bam Immobilien-Dienstleistungen have been appointed by Rimota Verwaltungsgesellschaft (a subsidiary of LHI Leasing).
The contract is worth more than €90 million, and the new IB.SH building is being designed to create a central office solution for its employees, who are currently working in ten different locations in Kiel.
Architects Heinle, Wischer und Partner from Berlin have designed the new IB.SH building, which is situated on the banks of Kiel Fjord – also known as the Hörn. The two five-storey buildings will accommodate 650 staff, and will be connected on the third floor by a glass walkway which will cross the Zur Helling street.
The building will include a public café at the Fjord site on the ground floor. An underground car park will offer about 200 parking spaces for cars, with 200 places for bicycles on the ground floor. In the outdoor area, there will be additional bike racks for guests and clients.
The ground-breaking ceremony is scheduled for the first half of 2019, with completion of the building in the first half of 2021.