Shannon Valley invests in Hitachi
Plant hire specialist Shannon Valley has expanded its fleet of Hitachi machinery to keep pace with the growth of the construction market in the Republic of Ireland.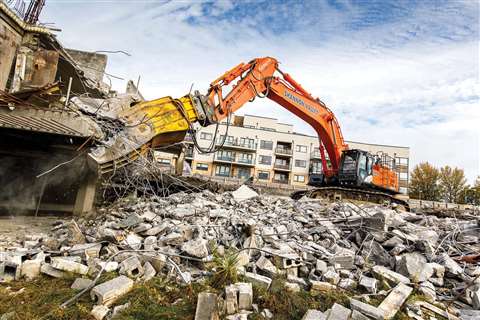 The contractor, which is based in County Dublin, has bought a range of Zaxis-5 and -6 excavators, and ZW-6 wheeled loaders, as the number and size of its projects have increased.
Founder Michael English purchased his first Hitachi excavator almost 30 years ago and now there are approximately 50 Zaxis excavators and ZW wheeled loaders in the fleet.
"We have bought more than a dozen machines this year, including the ZX48U-5 and ZX33U-5 mini, ZX225USLC-6 and ZX250LC-6 medium, and ZX690LCH-6 large excavators," said his son David, who is one of three brothers heading up the team of employees.
"Dublin is buoyant and we have other site development work being carried out in the south of the country," added David.
"This is a highly competitive market, in which every penny counts and the deadlines are always tight. We have continued to buy Hitachi machines, because the whole range is strong, particularly the large excavators for their durability and reliability.
Shannon Valley provides services ranging from demolition and road construction to bulk excavation and drainage. As well as construction-related activities and plant hire, haulage and quarrying services are available within the group.