Ainscough on modular job
By Alex Dahm19 December 2018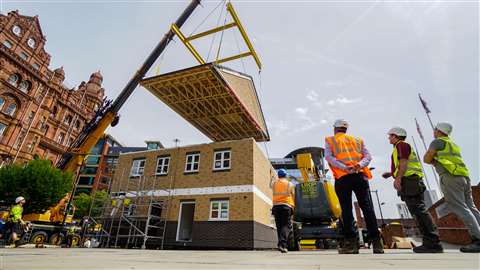 The UK's largest crane rental company Ainscough Crane Hire, has played a vital part in the construction of a series of new modular houses.
Ilke Homes uses a modular construction process said to be revolutionising housebuilding across the UK. It has a house production line at its new factory at Knaresborough, Yorkshire, in the north of England. Eight homes, all fitted with kitchens and bathrooms, can be built in a day, ready for delivery.
"Innovative, modern methods of construction" are used to build the modular homes. With everything on site, six homes a day can be installed, Ainscough said. It halves the time of a traditional build programme, Ainscough said. Ainscough lifts the components of the homes into place at UK sites.
Earlier in the year a 150 tonne crane from Ainscough's Manchester depot was used to lift into place a show home at Barbirolli Square in the city. It was fully installed within a day, demonstrating to attendees the potential for modular homes.
Commenting on the job, Gary Rathburn, Ainscough Manchester depot manager, said, "Ilke Homes modular construction is a game changer for the construction and housebuilding industries and represents great news for Britain's housing market. It is a privilege for our team to play a key role in this innovative process by lifting the various components into place, and we were pleased we could help bring this innovative process to a wider audience at Housing 2018. We look forward to continuing to work with Ilke Homes and helping to create places that people are proud to call home."
Mike Dennison, head of installation and delivery at Ilke Homes, said, "Ainscough has proved to be a reliable partner to Ilke in providing that professional approach to our lifting operation. Their commitment to H&S is second to none in ensuring that all our lifting operation are thoroughly planned and executed to the highest safety standards and providing the appropriate cranage to match the requirements each of our projects."