'Easier demolition' the TML way
German manufacturer TML Technik is using this year's Bauma exhibition in Munich to show its new Unidachs 110 demolition machine, which has been developed to work with a range of attachments.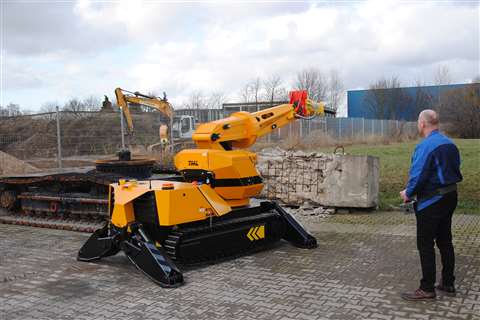 As well as being a small and compact machine designed for working in very tight spaces or at restricted heights, it is radio remote controlled to allow the operator to work at a safe distance.
A feature of the product is its 360° endlessly rotatable boom, high manoeuvrability and a strong hydraulic drive. The width of the undercarriage is 1,315 mm (52 in) and the height is 1,635 mm (64 in), which TML says allows access to working areas in buildings that are not easily accessible for other machines.
The boom's rotation, combined with the double articulated cantilever boom means that attachments can be used at almost any angle of the profile or surface to be worked on.
The machine is optimal for applications in tunnels, mines, the demolition or dismantling of buildings as well as for de-bricking rotary cement kilns.
Despite the compact size of the machine, depending on the attachment, in combination with the kinematics of the boom a working radius of up to 5,000 mm (196 in) can be reached. Every point of a cross gallery profile from which material needs to be removed can be more or less reached without re-positioning the machine.
"Users appreciate the combination of the cantilever-boom and the boom rotation, especially the fact that they are able to work from a single position and at the same time reach areas that was not possible in the past," said international sales manager Volker Bongardt.
"Our customers are now able to profit through the multi functionality known from other machines that we build – the flexibility of the continuously rotary boom and the compact design of the radio remote demolishing robot."
The machines are available with a choice of diesel-hydraulic or electro-hydraulic drives. Diesel engines have either 26 kW (EU Stage 3a) or 18.5 kW (EPA Tier 4), while the electro-hydraulic unit has 25 kW.