There is one construction show that casts a large shadow over the industry: Bauma Munich. The world's largest trade show by floor space only comes around every three years and is key for Liebherr. The company have one of the largest stands at the event and, alongside the other original equipment manufacturers present, will be using the show to launch a raft of new products and technology.
Exactly what new technological developments the company will be showing at the event is something that Andreas Böhm, who manages the finance and logistics department at Liebherr and is a member of the board of directors, is careful to not reveal too much about.
While the company has announced some of the equipment which will be at the show, they are doubtless keeping some surprises up their sleeve. Whenever the affable Böhm comes close to saying more than he perhaps should, he pulls back with a smile. However, he does hint that genuine technological developments will be unveiled by the company and reiterates the importance of the show.
"Bauma is the most important event for us. We always say that the day after Bauma is three years before the next Bauma, so it is always a milestone for us. We have technological innovations coming up, and the event is always something to focus on and strive towards. All of our engineering departments, one week after Bauma, will already be thinking about Bauma 2022."
Last year was a strong year for the construction industry, with sales increasing in most regions around the world. The fact that 2019 is a Bauma Munich year can't hurt sales – especially as most companies' time new product launches to occur at the show. Last year wasn't just a strong year for Liebherr, it was a record year; the firm saw a 6-7% overall increase in turnover.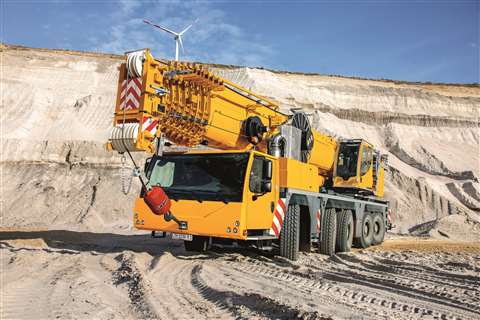 There will be four premieres from the Liebherr Mobile Cranes Division at Bauma Munich
Böhm describes market conditions in 2019 as "superb" and says that the order book looks strong. One of the issues the company faces is tied into these positive market conditions: the firm is struggling to serve all of the orders that have come in. These supply chain issues are partly due to Liebherr having a different distribution strategy than many of their direct competitors.
"We have a mixed distribution network which means we have independent dealers and our own mixed sales and service companies," explained Böhm.
"We don't have huge inventories of finished products, so we run at a lower level and go more with the economic situation as it goes up and down. We don't have thousands of machines on stock. We do have stock but not as much percentage wise as our competitors, so we are adjusting our production according to the economic situation."
Changing customers
Liebherr places a strong emphasis on new technology
One of the reasons that Böhm believes the firm enjoyed a record 2018 was due to a change in customer appreciation for high tech solutions with a focus on lifecycle cost. Using China, the world's largest market for construction equipment sales as an example; ten or even five years ago Chinese customers were focused heavily on price point. Böhm believes that this attitude has changed markedly in China and other developing markets, meaning that firms focused on technologically advanced products, lifecycle cost and service will benefit.
The company has enjoyed good growth in Europe – in France and Germany especially – and, as previously mentioned, has been strong in China. Böhm says that there have only been two or three markets in the whole world which have declined regarding construction equipment sales, which is unusual.
"It is rare to see so much growth around the whole world; it is pretty amazing when you see how many political difficulties and challenges there are around the world. If you look at Europe, almost every country has issues and instability and there is the trade war between China and the US. It is pretty amazing how demand has developed and how strong the economic environment is."
The company are doing well globally, but the Liebherr board member believes there is one particular geographical region that has great potential for the company. "We have huge opportunities in North America," he commented. "As a European-based company, we have good market share, but it could always be better and that is our aim. Especially in the US, the appreciation for high technology is large, so we have worked intensively over the last few years on our distribution network in the US."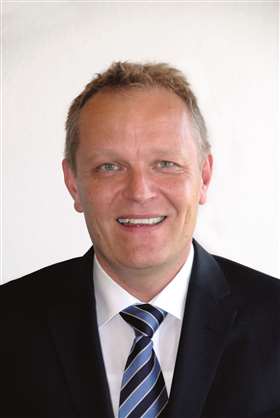 Technology is making significant ripples in the construction industry, with automation and electromobility hot topics. Böhm reveals that Liebherr are investing time and money into fuel cell technology and utilising the knowledge from their aerospace sector. He believes that, regarding construction equipment,
"The future will be cleaner, more electrical and more automated." When pushed on exactly what that might practically mean for construction equipment, the answer given is a polite but firm invitation to wait until Bauma Munich when all will be revealed.