Construction industry positive about global economy
By Andy Brown03 June 2019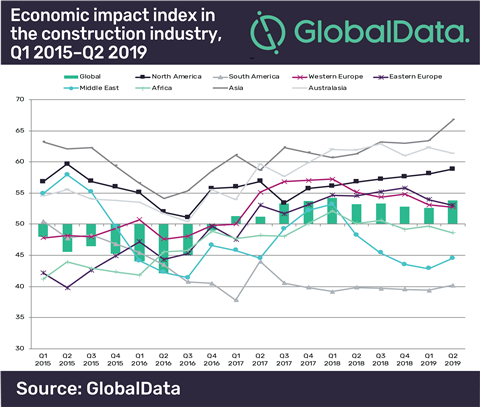 The Economic Impact Index (EII) barometer from GlobalData, which reveals how respondents see the current state of the economy with regards to the construction industry, increased in the second quarter of 2019.
The EII increased slightly in the second quarter of the year, improving to 53.8 points from 52.6 in in the first quarter of 2019. Scores above 50 signify that respondents believe the global economy continues to have an overall favourable impact.
Regional economic construction impact 2019

Asia continues to post the highest EII score among the global regions, and enjoyed a sharp improvement in the second quarter of 2019, to 66.8 points. The region continues to benefit from high investment, increasing urbanisation and relative political stability.
The EII score for North America continues to rise and, while the score also increased for Latin America, this region still has the lowest score among all global regions.
The Middle East saw a steep drop in the EII score during the latter part of 2018 and into the first quarter of 2019, but enjoyed a slight improvement in the second quarter, mirroring the rebound in the oil market.
The EII in the Africa region remained marginally below the 50-point market for the third consecutive quarter.
Danny Richards, lead economist at GlobalData, commented, "Amid the general slowdown in economic growth, the EII score for Western Europe has continued to fall in recent quarters. However, on balance, the region's economic performance is still considered to be having a positive impact on the construction industry. It is a similar case in Eastern Europe, where the EII score has declined, but is still above the 50-point mark."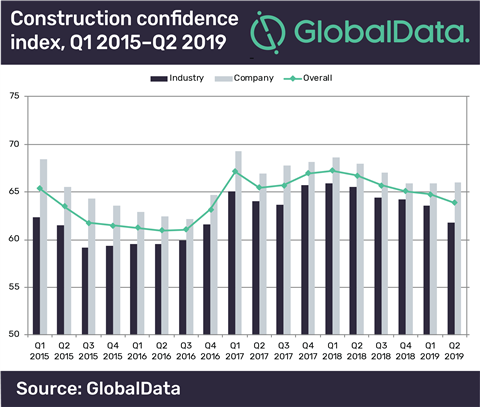 Another barometer from GlobalData, the Construction Confidence Index (CCI), has revealed that confidence levels among construction industry executives regarding growth prospects for the industry has fallen.
In the second quarter of 2019 the score of the CCI dropped to 63.9 points, down from 64.8 points in the first quarter of the year. The CCI score has now declined for nine consecutive quarters.
Despite the decline, the CCI score remains comfortably above the 50-point mark, suggesting that industry executives still remain optimistic about growth prospects in the coming six months.