IC50 2019: up but slowing down
Development overall remains positive but things have slowed down again in many aspects of this year's IC50.
The original ranking of the world's largest crane-owning companies published in International Cranes and Specialized Transport, is up again but only just. Continuing the trend of the last two years, this year's IC50 once again shows a smaller percentage growth. Following a 6 per cent increase in 2017 and 5 % in 2018, this year the rise has declined significantly further, to just 1 %. Here we are talking about the IC Index total of the top 100 of the 200 or so companies in the table. Areas also showing increases again this year are in the number of employees, up 2.38 % and the number of wheeled cranes, up just 0.5 %, or 131 units, to a total of 26,187. The increase last year was more than 4 %.
So, in terms of all the entries this year, the total of 201 companies included eight either new or returning entries while 22 were deleted. Two of them were removed following acquisition while the remainder were as a result of no longer trading or it being old data. The grand total IC Index value of all companies in 2019 was 28,051,368, up 0.57 % on the 27,892,816 of 2018. This year was still higher even with 14 fewer companies.
The number of lattice boom cranes held by the top 100 companies has declined, by 0.69 %, to 6,716 units. That goes up against a 2 % rise in 2018. The second area showing a decline in the top 100 is in the number of depots, down for the second year running, this year by 2.7 % or 40 depots, compared with a fall of less than half of one percent last year.
Numbers were up in the top ten fleets carrying the most wheeled mobile cranes. This year showed a 2 % or 209 unit increase over 2018. After many years of increases in the number of lattice boom cranes, the total of the ten largest fleets this year was down - but only just - by three units.
In terms of capacity, however, this continues to increase in the lattice crane sector, as it has done overall for at least a decade.
Looking at the top 20 companies, the only positive was an increase in the number of depots, perhaps suggesting that these leading companies have invested further in getting closer to their customers. At 507 depots the number was up 2 % from the 497 of 2018. An increase in this number has been consistent for many years. The number of employees, however, was down, by 4.5 %, or 1,428 people, to 30,460 from 31,888 and reversing two years of rises. There were 4 % fewer wheeled cranes and 1 % fewer lattice cranes (just 41 units).
In terms of positions in the table, while Mammoet is number one as it has been since the first IC50 more than 20 years ago, the gap to Sarens in second place has reduced massively in the last year alone. Mammoet's index is down this year, by 100,000 points but the gap has been closed to a greater extent by expansion of Sarens' capability. It has added 375,581 tonne-metres of capability to its fleet since last year's table. A whopping 250,000 of which was added by just one crane, the SGC 250 super heavy lift crane shown in the iron in November 2018. It is one of three new giant cranes announced in October 2017.
The gap between the Mammoet and Sarens fleets in 2018 was a formidable 554,145 points and now it is down to 78,564. To give an idea of the difference, last year it was about the same as the size of Buckner's fleet, at 8th place in the table, to now being similar to Crane Norway's fleet from 62nd place.
In the top ten the first six companies remain unchanged from last year. At seven Bigge is up one place. It has kept a high profile in terms of multiple fleet additions and new equipment orders announced in recent years. Also up one place is Buckner at eight. Deep South Crane & Rigging has burst into the top ten to take 9th place, moving up four from 13th. Weldex retains its long-held position in the top ten while All Erection moves from 7 to 11.
Among the top 50 companies, crane owners in Asia, especially from Japan, have done well this year, as have larger companies based in Europe. US companies have generally also fared well while it is more of a mixed picture elsewhere in the world. This mix is more apparent and more widespread in the second half of the table where a clear trend is hard to identify.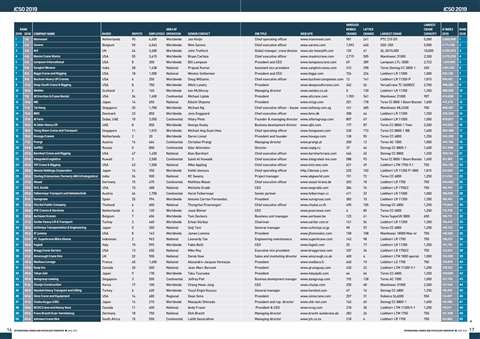 NOTES FOR THE IC50
Companies are ranked by their IC Index, calculated as the total maximum load moment rating, in tonne-metres, of all cranes in a fleet. All companies in the list, plus other prospective ones, have the opportunity to supply fleet information and the other requested data for inclusion in the ranking. Where companies supply the full data the figure used is calculated by them.
In some cases, where no data is submitted, or is incomplete, we have based a company's equipment fleet figure on an ICST estimate. In cases of insolvency, acquisition or lack of information, companies are withdrawn from the table.
While we make great effort to ensure the accuracy of information provided, it cannot be guaranteed and ICST accepts no liability for inaccuracies or omissions.
The IC50 Index will next be updated in the first quarter of 2020. If you think your company should be included please contact ICST for an application form. Note that tower cranes are not in the main IC50 table here because they appear separately in the special IC Tower Index published in the September issue of ICST. Similarly, specialized transport equipment is also featured in a separate ranking, the IC Transport50, in the August issue of the magazine. Calls for entries in these tables are also issued and widely publicised like the ones for the IC50. Please look out for them at www.khl.com, in the World Crane Week e-mail newsletter and in the magazine.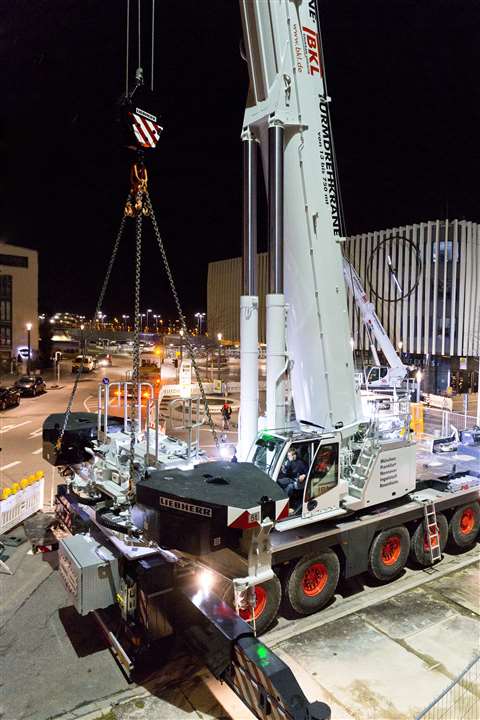 Supporting documents
Click links below to download and view individual files.