Hochtief's €500 million bridge project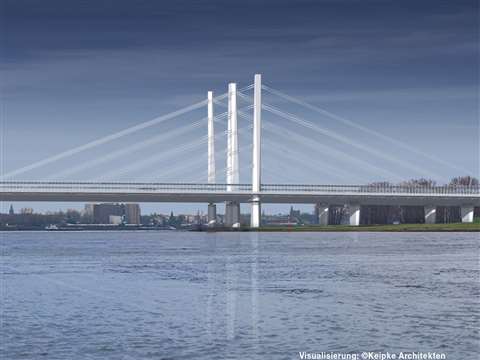 German contractor Hochtief has won a €500 million contract to build Germany's longest free-spanning cable-stayed bridge.
Hochtief will act as technical leader of a joint venture to build the 802m-long replacement Bridge, set to span the river Rhine in Duisburg-Neuenkamp.
The project will be delivered under the auspices of the state-owned planning and construction company Deutsche Einheit Fernstraßenplanungs- und -bau.
The bridge's construction will be challenging, with the structure's two pylons to be set 380m apart. The contract also calls for Hochtief to construct sections of connecting A40 highway at either end of the bridge.
The company expects to break ground on the project early next month, with completion planned for 2026.
Hochtief's CEO, Marcelion Fernández Verdes, said, "With this project, we make an important contribution to renewing the transportation infrastructure on a main traffic artery in Germany."