Zhongneng United partners with XCMG
By Euan Youdale11 August 2020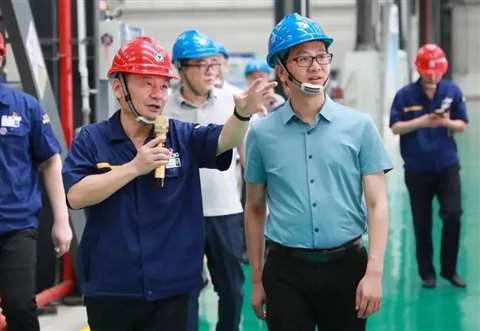 Chinese rental company Zhongneng United confirmed a new partnership with aerial platform manufacturer XCMG earlier this month.
The signing of the strategic agreement between the two companies on 5 August took place during a visit by Zhongneng United to the XCMG Fire-Fighting facility, where it manufactures MEWPS. The agreement will see closer aligment in product development, service, market expansion and brand awareness, to create greater value to the customer and grow their influence.
Yang Tian Li, chairman of Zhongneng United, which says it has more than 30,000 units in its MEWP fleet, took a tour of the aerial platform production facilities at the XCMG plant and praised the level of technology. Yang said that the two companies would realise mutual benefits by working together. "It is expected that through this cooperation, we can strengthen ties, expand areas and achieve more results."
During the visit, Yang and Li Qian Jin, general manager of XCMG Fire-Fighting, which claims to hold 20% of the Chinese MEWP market in the self propelled boom segment, tested an XCMG XGA20AC articulating boom lift, which is one of the manufacturer's new XG series. The two sides later held a seminar to exchange ideas about industry development, market prospects and to set an action plan for the future.
Li Qian Jin said he hoped both companies could take full advantage of the opportunities that lie in the access market, by working together to offer a full level of service.