'Embrace digitisation' says CECE
By Sandy Guthrie13 October 2016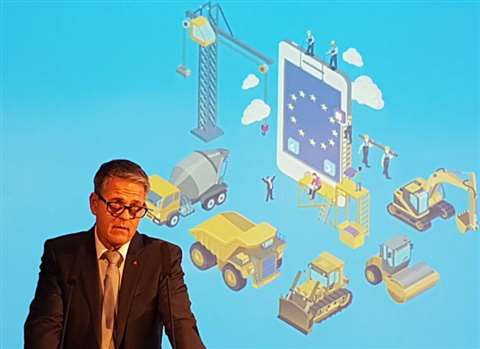 The European construction equipment industry is an example of technology leadership, according to Bernd Holz, president of CECE, the Committee for European Construction Equipment.
Addressing the CECE Congress in the Czech capital Prague, he said, "We can only be competitive long-term, sustainably, if we make sure we are the best."
He said, "Increasingly, our machines are 'digitised' and there is no escape from that. We must, and we are, embracing it. In fact, Europe as a whole must strive to be an engineering and digital powerhouse as well.
"It's the right approach for our societies and economies going forward."
The digital revolution was one of the topics of the CECE Congress, along with how to manage change in customer relations. Some 200 delegates attended the event, where the challenges and opportunities facing Central and Eastern Europe were discussed.
A technical forum looked at electrification, and the construction site of the future, while the economic forum looked at the global outlook for the economy, construction sector and equipment market, moderated by David Phillips, managing director of Off-Highway Research.
The main theme of this year's Congress was Industry in Transformation – Drivers of Success. The 2016 Congress was hosted by the Czech national association member of CECE, SVSS, and was supported by Doosan Bobcat and Ammann, among others, both of which have production facilities in the country.
Holz, who leads Ammann's Hennef factory in Germany as well as managing its Northern European Sales region, reflected on the daily challenges of manufacturing in Europe
"As manufacturers, we are determined to serve our customers, regardless of the regulatory burden or the economic constraints we are confronted with," he said. "The sector has used the last decade to make its production leaner. We feel we are well-placed to compete with each other and the rest of the world.
"We are confident we can increase our market share worldwide. And we are transforming our business models, becoming more service- and customer-oriented than ever before."
He added, "Provided that the general conditions within the sector and its customer industries do not change substantially in the coming months, CECE expects full-year growth of the European market of between 5% and 10%."