'Errors in design' caused Florida bridge collapse
By Andy Brown25 October 2019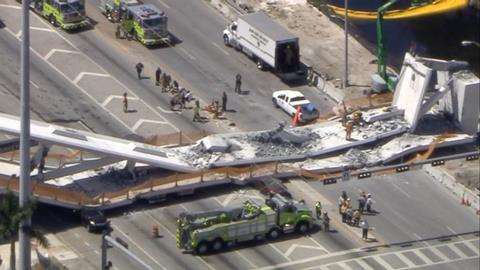 The National Transportation Safety Board (NTSB), an independent Federal government agency in the US, has released a report in which it says that the probable cause of the collapse of the Florida International University pedestrian bridge was load and capacity calculation errors made by FIGG Bridge Engineers.
The bridge collapsed in March 2018 leading to the death of six people and injuring ten people.
The prefabricated bridge – which was 53m long and weighed 950 tonnes – had only been in place for five days before it fell directly onto the highway, crushing cars beneath it.
The board also found that consulting engineer Louis Berger Group failed to notice FIGG's design calculation errors that contributed to the collapse.
The NTSB also noted that Louis Berger was not qualified as an independent peer review engineering firm by the Florida Department of Transport and did not have a sufficient budget to evaluate the nodes or the stages of bridge construction.
The NTSB offered 30 findings in total, including that the cracks should have indicated to the project team that the bridge was failing.
The accident has also resulted in the main contractor involved in the bridge, Magnum Construction Management (MCM), filing for bankruptcy protection.
"Errors in bridge design, inadequate peer review and poor engineering judgment led to the collapse of this bridge," said NTSB chairman Robert Sumwalt. "The failure of all concerned parties, to recognize and take action on the threat to public safety presented by the significant observed bridge structure distress prior to the collapse, led to the tragic loss of life in this preventable accident."