'Excellent' 2017 for Vinci
By Sandy Guthrie08 February 2018
A year described by Vinci chairman and CEO Xavier Huillard as "excellent" is being forecast to be followed by a 2018 that will see the upturn in revenue for the contracting division of the French giant continuing across all business lines.
It said this would be both in France and internationally, and that the EBIT (earnings before interest and taxes) margin should improve further in contracting as a result.
For the group as a whole, revenue was up 5.7% to €40.2 billion, with a strong increase reported in passenger numbers at Vinci Airports (up 12.4%), good momentum in heavy-vehicle traffic at Vinci Autoroutes, and higher business levels and order intake in contracting and at Vinci Immobilier – its real estate development sector.
Huillard said, "Vinci's performance in 2017 was excellent.
"In contracting, there was a return to growth for both revenue and order intake in France. That was accompanied by an improvement in operating margins in the sectors that had been most badly affected by the recession. The group also carried out a number of acquisitions to develop its international presence, particularly at Vinci Energies."
He added that Vinci had taken advantage of highly favourable borrowing terms and carried out a number of refinancing transactions, which he said had significantly reduced the cost of its debt and extended its overall maturity.
"With our solid financial position, growing order books and promising operating environment in France and other major markets, Vinci can look forward to 2018 with optimism.
"All our business lines are likely to see revenue growth and the increase in operating margin in the contracting business should continue. We therefore expect further earnings growth."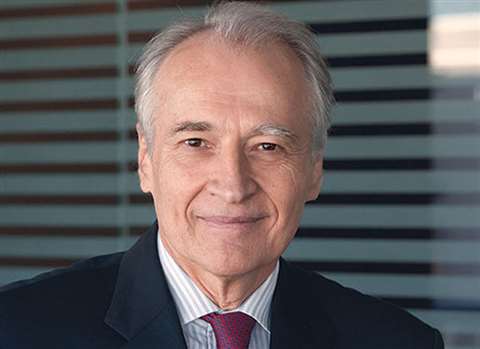 Group revenue
Group consolidated revenue amounted to €40.2 billion, which was a 5.7% increase on 2016. Like-for-like, revenue was said to be up 4.4%, and it added that the 0.6% negative impact of currency movements was more than offset by a 1.9% boost from recent acquisitions.
Contracting revenue – from Vinci Energies, Eurovia (its transport infrastructure construction subsidiary) and Vinci Construction – was €32.8 billion, up 4.3%. On a like-for-like basis, the increase was 3.6%.
Vinci said that after several years of falling revenue, particularly in France, its three contracting businesses resumed organic growth in 2017 – 2.8% at Vinci Energies, 7.0% at Eurovia and 2.2% at Vinci Construction.
The group announced a number of acquisitions in the contracting business in 2017. It said Vinci Energies had carried out 34 acquisitions representing combined full-year business volume of around $1.6 billion (€1.31 billion). Since the largest of them – Infratek and Eitech in Sweden, Horlemann in Germany and PrimeLine Utility Services in the US – were completed at the end of the year, Vinci said they had only a limited impact on 2017 revenue.
In France, Vinci reported that revenue was €23.7 billion, up 5.6% on an actual basis or 4.6% like-for-like, confirming the economic upturn in the group's main market.
Consolidated revenue from outside France was €16.6 billion, up 5.8% on an actual basis or 4.1% like-for-like. In 2017, 47% of its contracting revenue came from outside France.
In contracting, order intake rose more than 8% year-on-year to €34.5 billion in 2017. It increased 11% in France and 5% outside France. Order intake rose almost 14% at Vinci Energies, 4% at Eurovia and 7% at Vinci Construction.
The order book amounted to €29.3 billion at 31 December, 2017. This was up 7% compared with the end of 2016, and equal to almost 11 months of average business activity. Vinci said it had increased in all business lines. In France, the order book rose 13% to €15.5 billion. Outside France, it was up 1.3% to €13.8 billion.