'It's a meeting of like-minded people'
One of the earliest participants was South America's Fàbio Bruno Construções, an explosive demolition specialist based in Brazil which has gone on to win multiple awards.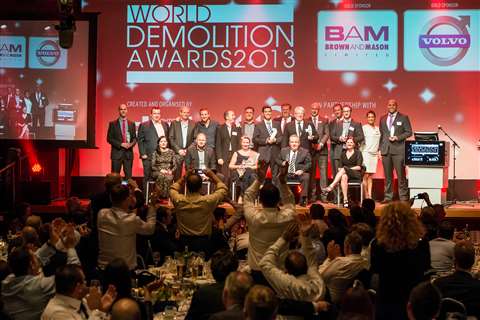 "I first heard of the awards in 2010, when I was looking for more information on the worldwide demolition market," said managing director Fàbio Bruno Pinto.
"If anything we entered out of curiosity, to know how the company would be compared to the world market. When we won it was a great surprise. Despite the efficiency with which we executed the project, I had no idea a company in South America could compete and win against such renowned companies in Europe or the USA, where there are large demolition associations. The award made us grow as a company. Today we compete on equal terms with competitors around the world, and we created Fàbio Bruno USA as a result.
"I think it is very important to be at the World Demolition Summit as we are always learning and exchanging information and contacts, and the presentations have a lot to offer. It's always worth attending. If you haven't been, you should go. You will be able to update yourself of the new world technologies and increase your network at the same time."
Two years later, an Australian contractor decided it too needed to put a toe in the World Demolition Awards water.
"We wanted to get an understanding of what types of projects were being completed outside of Australia," said Clinton Dick, managing director of Liberty Industrial, who today is a member of the nine-strong awards judging panel.
"When we won, it was a very proud moment. To take home the Industrial award and be chosen as the world's best in the overall World Demolition Award was so special. Certainly, clients were receptive of our achievements and I believe it gave them a sense of satisfaction knowing we were a world leading demolition company.
"Even when we have not been among the winners, we've developed some good friendships over the years, so it's nice to catch up and enjoy the company of others in our industry without having to worry about them being competition to us. My advice to companies thinking about attending the World Demolition Summit is – do it! "It will surprise you what knowledge you can gain and the contacts you can make chatting to like-minded people."
Shortlisted projects
As the awards became increasingly international, it was only natural that the African continent should enjoy its time in the spotlight. Step forward contractor Jet Demolition of South Africa.
"We first learned of the awards in Demolition & Recycling International magazine, and keenly followed the shortlisted projects and the subsequent profiles of the winning companies," said managing director Joe Brinkmann, whose company won consecutive awards in different categories in 2017 and 2018.
"But we had never entered due to the remoteness of South Africa, and the fact that no African companies had ever featured. While we were preparing for the implosion of the HG de Witt Building in Pretoria we invited [demolition consultant] Dick Green to assist and participate in the project. During preparatory works, Dick had mentioned that in his opinion the project was world class and should be entered for the awards. Based on his recommendation, we decided to enter, and were fortunate enough to be shortlisted and subsequently win the award.
"When we won…we have always known the work we do is to international standards, but to have it validated in such an environment was an immense sense of achievement and satisfaction. Demolition is widely assumed to be a 'cowboy' profession in South Africa, so it can be difficult to explain our bona-fide approach to practical, safe and efficient demolition. However, after winning the Explosive and Industrial Demolition Awards, we can use the award as an International benchmark. It is much easier to explain, especially to new clients.
"That said, we have found the greatest spin-off from the awards to be internal. Winning has boosted company morale, and projects are approached with new vigour and commitment, as they may just be entered the next year.
"We firmly perceive the summit to be the event of the year in the global demolition industry. Anyone who is serious about demolition should make it a priority to attend.
"There is no other event that attracts such a diverse group. Acquaintances rapidly evolve into friendships, truly uniting the industry, globally."
As well as the various contractor categories, the event has always made a point of honouring manufacturer innovation, with two awards in Tools & Attachments and Plant & Equipment respectively.
In the 10 years since they were introduced, few companies have been as successful as Kocurek Excavators.
Kocurek's Fred Stearn has been on the company's staff both in the sales department that originated projects and subsequently in the technical team that submitted them.
"You never know if you are going to win," is Fred's view.
"Especially in the Plant & Equipment section – it doesn't have to be a big or expensive item, so you never take it for granted. Like anything you enter for, you always have a look to see what the competition is.
"The awards are interesting for meeting people and putting names to faces, and if you are winning that's another part of the circle. It builds a bigger picture of your company. No-one is going to buy from you just because you have won an award, but it does help create an extra level of confidence."
Since 2017, the Awards have also featured a New Entrant prize, which recognises the depth of talent in the industry and honours companies who have entered for the first time – or after an absence of at least three years – and have not won a previous award or any of the categories they have entered for in the current year.
Delighted to win
The United Kingdom's Scudder Demolition took this award in 2018 and felt just as much a part of the overall celebrations as everyone else.
"When we looked at the award categories it was clear that we had several projects we needed to enter as we felt confident these would have a chance due to the profile of the project and complexity of the works," said Scudder's Martin Arnold.
"We were absolutely delighted to win, especially as this was our first year of entering and we were up against some very tough competition. It was especially pleasing to win for the teams involved – those who had successfully delivered the Selfridges project and those involved in writing and submitting the award entry.
"The World Demolition Summit and Awards provide a great opportunity to network and keep up-to-date with what's happening in the industry and are well worth attending. Time is precious and it's not always convenient spending a couple of days out of the office, but this is a valuable couple of days to network and keep up to date with industry news.
First published in the July-August 2019 issue of Demolition & Recycling International. This year's awards take place on October 23 and 24 in Boston, USA, for more details please visit www.demolitionsummit.com