Mammoet launches Enviro-Mat
By Christian Shelton20 October 2017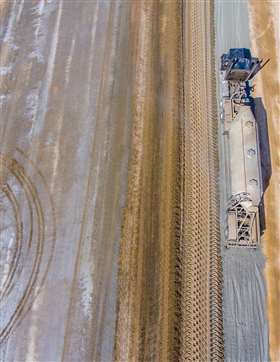 Heavy lifting and transport specialist Mammoet has launched the Enviro-Mat – a ground fortification solution that the company said provides a fast and sustainable way of increasing the load bearing capacity of any type of soil up to 50 tons/m2. And, if required, even higher load bearing capacities can be achieved using the Enviro-Mat, said Mammoet.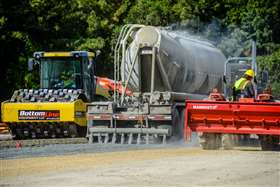 According to Mammoet, the Enviro-Mat ground fortification method can provide a more efficient and environmentally-friendly way to provide a solid foundation for heavy equipment to work on than traditional methods, such as using gravel, wooden mats, or concrete slabs. This is because it uses local resources and requires less transport of materials than conventional methods.
Mammoet's Enviro-Mat is installed by mixing native soil with Portland cement (or an equivalent) and the Enviro-Mat additive. The additive comprises natural components, salts, minerals and zeolites which work to lengthen the crystals in the cement to create a stronger binding, making it more durable than alternatives, said Mammoet. The mixture is then compacted with a roller and sprayed with water to harden it.
The result is a strong mat with a high flexural strength that can increase the load bearing capacity of the ground up to 50 tons/m2. If a higher load bearing capacity is required, Mammoet's engineers can calculate the suitable layer thickness required.
The enhanced binding also ensures that the mat has little to no air pockets, making it water-resistant and less susceptible to freeze-thaw damage. This allows the Enviro-Mat to be used to stabilise soil in harsh climates, where rain or frost can make work challenging.
Because Enviro-Mat uses the soil on site, it is faster to install than traditional methods, said Mammoet, saving time before lifting and transport has commenced. It also requires less transport of materials and preparatory ground work, which reduces a project's carbon footprint.
The exact speed of installation depends on the layer thickness required, but Mammoet said it has been able to cover up to 5000 m2 in a single day.
After the project has been completed, Enviro-Mat can be kept in place for decades. It can also be crushed and mixed back into the soil with no negative impact on the surrounding environment, Mammoet claimed.
Ronald Kleinjan, director of Mammoet Heavy Duty Pavements commented, "As ground preparations are always on the critical path of any project, they affect overall project efficiency and cost-effectiveness. Therefore, Enviro-Mat improves a project's efficiency right at the start of a project. We are currently applying this new technology on several of our customers' sites. We are proud to introduce this product globally, on all our projects."