1,000 tonne Zoomlion crawler
By Alex Dahm28 September 2010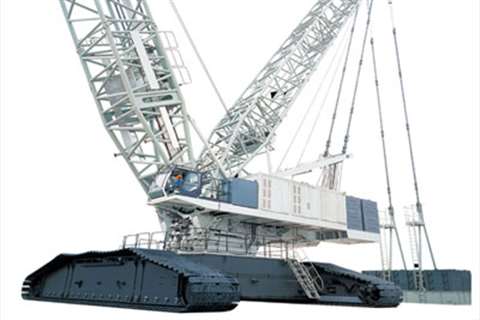 Zoomlion will show its new 1,000 tonne capacity crawler crane at the Bauma China exhibition in November 2010.
The lattice boom QUY1000 will star in the Chinese manufacturer's display at the construction equipment exhibition in Shanghai 23 - 26 November 2010.
Load moment is given as 15,800 tonne-metres and maximum lifting height is 195 m. A heavy duty main boom is available up to 90 m long. It will lift 650 tonnes to a height of 63 m at 22 m radius, the manufacturer said.
A target application is construction of nuclear power stations. It can lift the complete dome of the French M310 nuclear power station design in a main boom and jib with superlift combination of 54 + 50 m at a capacity of 180 tonnes, according to Zoomlion. The manufacturer said it is the first domestically produced 1,000 tonne capacity crawler crane delivered in the field.
It carries eight patents, according to Zoomlion and can be built for other industries, for example, petrochemical. Primary electrical and hydraulic components carry well-known international brands for reliability. The closed-loop hydraulic system with variable displacement pumps is designed for efficiency and controllability. Control is electronic with computer integration via CAN bus.
Zoomlion said that it has finished the design work for a 1,600 tonne capacity crawler crane and is working on a 3,200 tonner.