111,111 mini excavators for Kobelco's Ogaki factory
By Andy Brown05 February 2020
Kobelco Construction Machinery (KCM), headquartered in Tokyo, Japan, held a ceremony at its Ogaki Factory in Japan to celebrate production of the 111,111th mini excavator to be produced at the factory.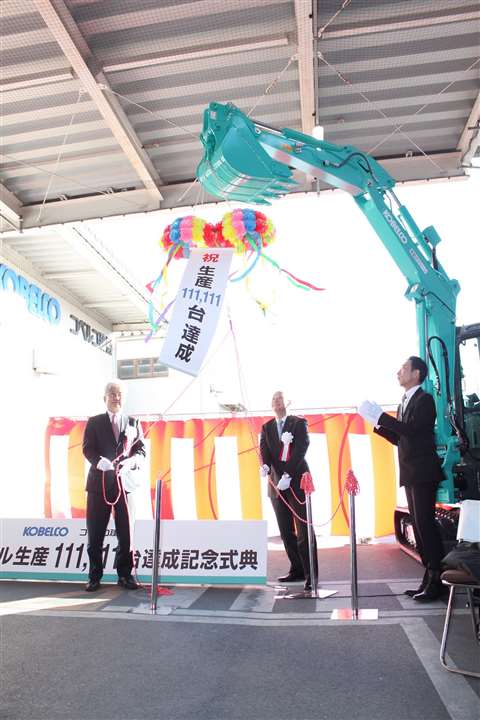 The ceremony was attended by about 400 people including guests, KCM executives, and employees of the Ogaki Factory. KCM produces the mini excavators for both domestic and overseas use at this factory.
Kobelco is one of the world's largest construction original equipment manufacturers (OEMs). In the last Yellow Table – International Construction's ranking of the top 50 OEMs by sales – the company was ranked number 17.
KCM entered into the mini excavator business in 1988 and commenced production of 4-5 ton machines in Hiroshima in 1990. It later outsourced production of 1-3.5 ton machines to Shinko Engineering, a group company of Kobe Steel and started to produce mini excavators at the current Ogaki factory in 1992.
In 2006, KCM established the mini excavator production framework in use today by taking over the mini excavator business from Shinko Engineering and relocating production of 4- 5 ton machines from Hiroshima to the Ogaki Factory.
With a production capacity of 7,300 units a year, the Ogaki Factory made a cumulative total of 111,111 units in January 2020.
At the ceremony, KCM's President and CEO Kazuhide Naraki said, "The cumulative production of 111,111 units is a milestone attained in strong headwinds.
"I would like to pay respect to the capabilities in development, manufacturing, sales, marketing, and services that our predecessors have established, and I would also like to recognise the efforts and hard work of employees by properly carrying on the legacy. I hope that you will continue to develop mini excavators that meet the expectations of customers around the world."