27,500 tonne TLP load out for ALE
By Katherine Weir19 May 2016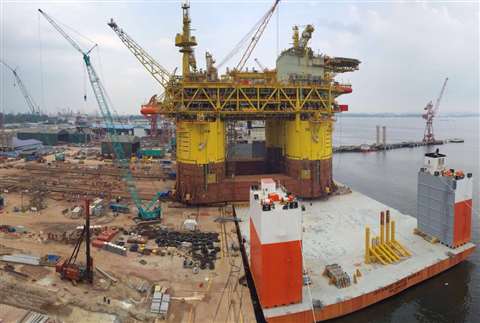 ALE loaded out the Malikai Tension Leg Platform (TLP), weighing 27,500 tonnes, in just 12 hours at Malaysia Marine and Heavy Engineering (MMHE) in Johor, Malaysia.
This load out was part of the contracted scope of work for the deep water Malikai Project, which was awarded on behalf of Technip-MMHE Joint Venture (TMJV). In July 2015, international heavy lift and transport company ALE was responsible for superlift activities including weighing the topside, jacking it up 40 metres using ALE's Mega Jack system and skidding it 90 m at elevation before mating the topside with the hull.
Currently, it stands as the world's highest ever jack up and skidding operations on this scale, the company said.
Subsequently in March 2016, ALE skidded the TLP 75 m onto the White Marlin vessel using eight strand jacks with 900 tonne capacity each. Each strand jack was fitted with 39 strand wires, giving a total pulling capacity of 5,928 tonnes. As well as the skidding operation for the load out, ALE operated their barge level monitoring system.
Barney Mills, Offshore Services engineering manager at ALE, who coordinated the load out operation, said, "This was a challenging operation as the load out was undertaken with the vessel in a side-on position. This meant that the control and monitoring of the vessel stability during the load transfer was crucial. Quay jacks were used to ensure the vessel heel remain positive by way of monitoring calculated load on the quay. We also used our barge level monitoring system to constantly monitor the vessel trim, heel and deck shape in real time throughout the load out."
The White Marlin has since taken the TLP to an area off the coast of Singapore, where the float off operation was completed; the TLP towed back and moored against the quay for final testing and commissioning. Once completed, the TLP will be towed to its operating offshore site, 100 kilometres from Sabah, Malaysia.