48.5km bridge in Kuwait opens
The 48.5km long Sheikh Jaber Al-Ahmad Al-Sabah Causeway in Kuwait is now open to traffic.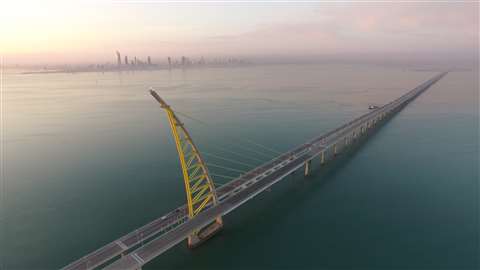 The combination of two sea bridges, the Subiyah Link (36.1km) and the Doha Link (12.4km), make it one of the world's largest bridges.
Dar's was lead consultant on the project working alongside Dar Group sister companies T.Y. Lin International, Ross & Baruzzini and Currie & Brown.
The brief from Kuwait's Public Authority for Roads & Transportation was to ensure a 100-year service life in one of the most aggressive coastal marine environments in the world.
The causeway facilitates development of the uninhabited border region of Subiyah, which will be the site of a major free-trade zone, Madinat al-Hareer or Silk City.
Land areas of 350,000m² and 600,000m² have been reclaimed at either end of the causeway, while two artificial islands of 300,000m² each have been created along its length.
The causeway carries dual carriageways, each with a total width of 17m and carrying three lanes of traffic, an emergency lane and a hard shoulder.
The main section reduces the journey time from Kuwait City to Subiyah from 70 minutes to 20 minutes.
A cable-stayed bridge in the main section creates a navigation channel 120m wide and 23m high to enable access to Kuwait's Doha port. This opening in the causeway is supported by a 151m high pylon, inspired in its shape by a traditional sailboat, but unconventional in its engineering. The use of structural trusses is said to avoid the need for conventional back stays.