5,000 tonne heavyweight on order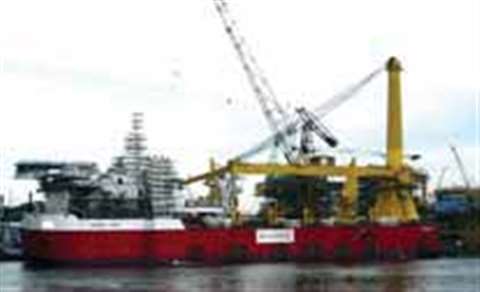 Nordic Heavy Lift subsidiary Avonway has ordered a heavy lift crane vessel with a claimed record 5,000 tonne single mast lifting capacity. Dutch company Huisman-Itrec designed the crane and will also build it. Singapore's Sembawang Shipyard will build the 180 m monohull vessel, which was designed by Sea of Solutions, part of Offshore Ship Designers Group in the Netherlands.
A Huisman-Itrec spokesman said, "The design has many design innovations but what catches the eye is the enormous single mast crane, reaching approximately 150 m above the deck when topped up. It will be the largest single mast crane yet built."
The vessel is due to enter service in March 2010.
According to Huisman-Itrec deepwater oilfield construction projects demand high transit speeds and good dynamic positioning capability when on station. The vessel's transit speed of around 14 knots will be achieved by installing two propulsion thrusters.
Mighty Sapura
Huisman-Itrec has already built what it claims is the largest crane of this type, a 3,700 tonne capacity version mounted on the Sapura 3000 vessel, under construction.
The Sapura 3000, the world's largest capacity marine single mast crane vessel, according to its crane manufacturer Huisman-Itrec
The US$ 200 million vessel is jointly owned by SapuraCrest Petroleum of Malaysia and international offshore engineering contractor Acergy (formerly Stolt Offshore). The heavy lift derrick and pipelay combination vessel is designed to be the most advanced deepwater construction ship in Asia Pacific waters.
In addition to the main 90 m boom mast crane, Huisman also supplied a pair of 40 tonne capacity pedestal-mounted cranes, six pipe davits rated at 50 tonne-metres and all the other lifting, handling and pipe laying equipment. Huisman, which also builds the PTC platform twin-ring containerized cranes for Mammoet in the Netherlands was also partly responsible for the design of the automation and drive system of the ship itself, all of which are electrically driven.
Traditionally, cranes and winches were driven by hydraulics or DC electricity, mainly to generate the high torque required. Huisman says, however, that evolution in electro-technology makes frequency controlled asynchronous three-phase motors a viable and preferable solution. For the power supply and to suppress harmonic distortion, Huisman uses a 3,000 kVA, 12 pulse transformer with rectifier.
This creates a direct current bus of 930 Volts from of the ship's net. Virtually all drive systems are fed from this bus system. A key feature of the crane is that the boom has free continuous rotation. The direct current is generated in the fixed crane pedestal and transferred through slip rings to the main winch frame inside the pedestal. All large winches for main, auxiliary and topping hoist are on this huge winch frame that rotates along with the slewing movement of the boom.