A Giant Emerges
By Lindsay Gale20 March 2008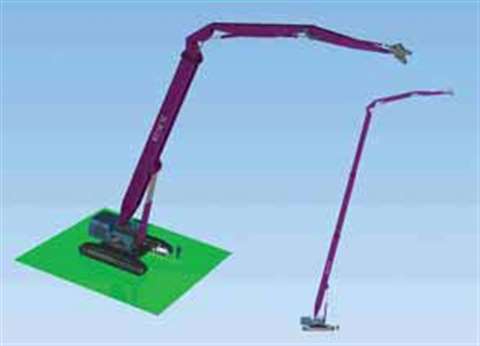 D&Ri has obtained a rendering of the giant 90 m (295 ft) high reach currently under development by Rusch, based on a heavily modified Cat 5110, for Dutch high reach specialist Euro Demolition The rendering shows the awesome scale of the design.
As reported in our January-February issue, the new machine will carry 5 tons to full height. At that time we reported that would carry a 10 ton tool to 70 m (230 ft) but the specification apparently will in fact allow the machine to carry a 12 ton tool to 80 m (262 ft)!
We also reported that the machine would weigh in the region of 250 tons, including boom, when in the metal However, it is now likely to weigh considerably less than this. The complete three stage telescopic main boom and upper are likely to weigh in the region of 60 tons, and the modified Cat 5110 and boom together are likely to weigh less than 200 tons when completed. Four low loaders will transport the completed machine from site to site once it starts work next year.
The machine concept is currently undergoing final verification, and assuming it passes through this phase successfully, fabrication should commence early in April. Completion is still expected to be by the end of this year. Once work is far enough advanced, D&Ri plans to visit Rusch and will report on this giant of the demolition world in more detail.