A fast flow of ideas
By Helen Wright19 September 2014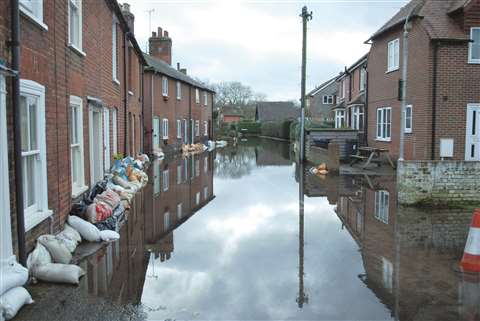 Manufacturers of dewatering pumps targeted at the global rental industry report a number of factors influencing their latest designs.
From demand for increased versatility – for one model that can be used in a range of different applications – to calls for increased servicing and spare parts support, and interest in remote monitoring technology, the sector's producers are taking customer requirements on board.
Meanwhile, one factor that has seen demand for dewatering pumps spike this year has been increased government contingency planning in the wake of the severe flooding that affected parts of Europe in the last year.


Contingency planning

Indeed, UK rental company Morris Site Machinery, said demand for its Hilta pumps had been driven up by companies and the government recognising a need for more contingency planning, although it added that many still operated very reactively.
Phil Winnington, managing director of Morris Site Machinery, said, "Long term changing environmental conditions are driving industry change," he said. "The unstable weather of winter 2013/14, saw many UK towns and countryside submerged, which has resulted in councils and local authorities looking further ahead and planning resource efficiently.
"On a wider scale the concerns of global warming and unpredictable weather is also driving demand and investment, particularly in industries such as construction, quarry and mining and agriculture."
As emergency planning moves higher up the agenda, Mr Winnington said it comes as no surprise that the pump rental sector is seeing an investment boom and taking a more integrated approach to its product development.
"Pump manufacturers, once operating in isolation and focused on selling product, are now working with their customers more to ensure the right products are being deployed in their contingency plan stages," he explained.
"We have certainly seen uplift in enquiries for our 'time-served' pumps to manage floods and importantly to have on hand should emergency situations arise. However many of our products are also used as an essential tool in day to day operation to help clear waterlogged sites before construction or mining projects begin."
The Hilta range consists of submersible, residue, centrifugal, diaphragm and automatic water priming pumps available from 1 in (25mm) to 12 in (305 mm) with a choice of petrol, diesel or electric driven motors and a full range of hoses and fittings. Pumps over 4 in (102 mm) come complete with silenced canopies and are available on road tow for easy transportation.


Subdued view

However, from a global point of view, Duncan Jackson, head of autoprime pumps at SPP, said the market was looking subdued this year. "We sell into Australia, the UK, the US, Sweden, Denmark and Germany and it could well be that pre-2008, companies overstocked with pumps. But it is true that some of the smaller companies are spending at the moment, but competition is hard.
"I think 2015 will be much the same. When we talk to our rental customers, they talk about how tough business is and about how each hire company is chasing the other for business. They also say that rental rates for pumps are much lower."
Mr Jackson added, "Our rental customers look for reliability – they look at the back-up and service side. In fact the spare parts side of our business is the area where we have seen increases, while there has been a reduction in the ordering of new equipment – this fits the general trend that rental companies are reporting."
One of SPP's ongoing development projects has been the creation of a pump modification system that will allow standard pumps to be transformed easily into solids handling units. The new Autoprime Q200(S) features a single vane open impeller for handling raw sewage containing stringy/fibrous solids and semi solids.
Capable of passing solids up to 100 mm diameter, this fully automatic prime and re-prime pump can be converted between either a standard Q200 with higher volume and pressure output for general purpose dewatering, or the (S) version with non-clog single vane impeller by changing three components. Just the impeller, wear plate and inlet duct need to be swapped out.
Mr Jackson said the idea was to offer two pumps in one, "When you're pumping sewage there is a lot of stringy fibrous matter and centrifugal pumps have to be able to handle that, and we have designed a single-bladed impeller – the S Impeller – specifically for this application. Trials have so far gone very well, and I think the product will be released by the end of this year."


More bullish

Meanwhile, Atlas Copco Portable Energy vice president for pumps business development Per Rehn was more bullish on global prospects for the pump rental industry.
"We currently have a strong presence in mature markets, especially in Europe. North America is also important for our future growth. We only sell direct to rental companies, which means we don't manage our own rental operation," he began.
"2013 was a very good for Atlas Copco's pump business and we expect this year-on-year growth to continue. In the past, pumps weren't a top priority for general equipment rental companies. However, lately the trend is for renting instead of buying and some of the major global rental companies have increased their investments in pump rental operations.
"With the introduction of our new range of diesel-driven pumps, we have expanded our pump portfolio which will strengthen our business in the rental market."
The new diesel-driven portable pumps – the 4 in (102 mm), 6 in (152 mm) and 8 in (203 mm) PAS 4, PAS 6 and PAS 8 dry units. Atlas Copco already offers electric, pneumatic and hydraulic submersible pumps, and the new diesel range is targeted at tough environments, or where power is not available.
The PAS 4, PAS 6 and PAS 8 have an operating flow range of 50 to 600 m3 per hour with a maximum head of 37 m. Their solids handling capacity reaches up to 76 mm.
"The Atlas Copco PAS range of diesel driven pumps has been designed to be easy to transport, cost efficient and long lasting thanks to their compact dimensions, fuel efficiency and robust canopy constructed from zincor treated steel plate," Mr Rehn said.
Mr Rehn added that the next steps for Atlas Copco would be the continued expansion of its portfolio of both electrical submersible pumps as well as diesel-driven pumps.
"Controlling equipment remotely is becoming common," he added. "Even though, the pump industry, in general, is not on the front line in this area ,we will also continue to research and develop technical solutions to increase and improve monitoring, including remotely."


Remote monitoring

Xylem is one manufacturer moving ahead with remote monitoring technology. It has made its Godwin Field Smart technology for dewatering pumps available outside the US for the first time, across Europe, the Middle East and Asia Pacific.
The new Field Smart Technology works in tandem with Godwin's PrimeGuard pump controller to allow users to monitor and control equipment remotely to ensure optimum efficiency.
Equipment can be turned on and off and locked, while a built-in alarm system warns operators of faults in a pump, which means that when an engineer is going to fix the problem they know exactly what equipment to bring along. The technology can also monitor emissions from a pump engine which can indicate problems such as blocked filters.
Dave Boucher, product manager with Xylem said, "With our Field Smart Technology customers can monitor the operation of a pump that is located anywhere in the world. It is particularly useful for distributors of large rental pump fleets, or customers who need to monitor a pump situated in a remote part of a mine, for example.
"Information about an engine's and pump's operating conditions – running temperature, oil level and pump suction for example – can all be relayed via this telemetry system. Data is collected at one minute intervals and transmitted to a password protected website which customers can view on their laptop, tablet or smartphone."
Mr Boucher added, "The technology has been very well received by customers in the US as it eliminates the need for on-site pump monitoring and provides early indications of pump failure and downtime."
Meanwhile, Xylem has also extended the number of high-head Godwin dewatering pumps available to rental companies to cater for increased demand. Customers can now choose from an additional 20 pumps, including the high head Godwin HL series, the Godwin CD and NC (non-clog) series.
Kieran Gagg, rental manager for Xylem across Europe, the Middle East and Africa and Asia Pacific regions, said "We believe the increased demand we are experiencing from the rental market for our high head Godwin pumps is due to customers recognising the value of our rental option.
"We offer a turn-key service where customers with a quarry, construction site or mine that needs dewatering can rent our equipment in order to get their operations up and running as quickly and cost-effectively as possible.
"Renting equipment means that there are no storage or maintenance costs for the customer and they can still benefit from Xylem's expertise in advising them on the most appropriate pump to tackle the water removal challenge."
This is a feature from the September/October issue of IRN. For the full feature, including extra images and box stories, subscribe to the magazine.