A history of the Job of the Year competition
By D.Ann Shiffler25 May 2022
The SC&RA Job of the Year contest is a monumental tradition that has been going strong for 57 years.
In 1965, SC&RA created and conducted the first Hauling Job of the Year (JOY) contest to recognize a company that safely transported an oversize and overweight load using the most innovative technology and creative methods.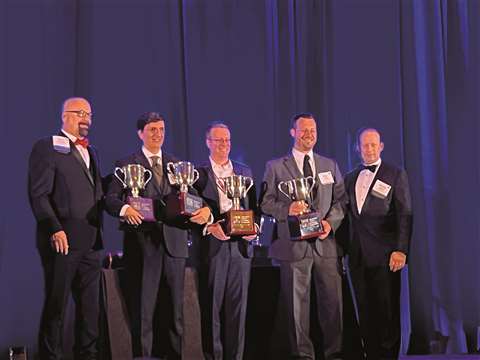 The first SC&RA JOY award went to Bigge Drayage Company, which moved a 350-ton nuclear reactor from a busy seaport to a coastal power station 50 miles away. The reactor head was lifted off an ocean-going ship by a 650-ton capacity crane and lowered onto Bigge's trailers that were prepositioned on a heavy-duty barge, the Bigge 2. After being pulled by a tugboat 25 miles down the California coast, it was offloaded at a landing site at Camp Pendleton Marine Corps base and trucked the final 25 miles by land, overcoming a variety of obstacles.
Three years later the Rigging JOY competition was added to recognize a company that safely completed a cutting-edge lift and placement of an oversized/overweight load under challenging circumstances.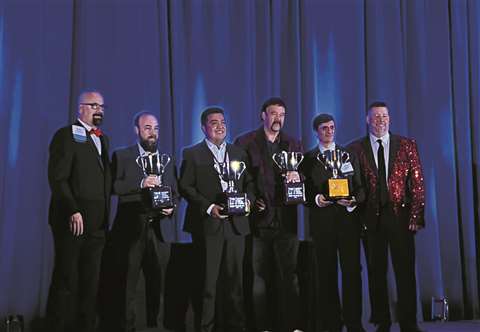 Fittingly, the first SC&RA Rigging Job of the Year award was won by Bigge Drayage for its work erecting two dock-mounted sea-land container handling cranes at the Port of Cam Ranh Bay in Vietnam.
A few years later several new JOY contest categories were added so that companies of all sizes could compete fairly within the defined classifications on jobs with generally similar scope, dimension and innovation.
International competition
Since that first trophy was awarded, some 270 of the revered JOY loving cups have been awarded to companies around the globe.
It has become a truly international competition with more than three dozen winners from companies based outside of the United States and many of the jobs taking place in locales around the world.
"The Job of the Year contest gives the industry the ability to chronicle the best of the best projects," said SC&RA CEO Joel Dandrea in the book "Monumental," that chronicles winning jobs from 1965 to 2012. "The professionals in this business invented the term 'adjust on the fly' because each project is unique and presents new moment-to-moment challenges."
Among the companies with the most JOY trophies on their shelves are Bigge, Barnhart, Emmert International, Fagioli and Mammoet, to name a few.
Last month at the SC&RA Annual Conference the JOY presentations were just as interesting and amazing as ever.
Long live this wonderful contest that creates a legacy for the crane, rigging and specialized transportation industry for years to come.
2022 JOY Winners
Eight companies took home the big prize for the crane, rigging and specialized transportation industry at the SC&RA Annual Conference Closing Night Awards and Recognition Dinner in Washington D.C. The 2022 Job of the Year winners are:
Rigging (Entry based on total contract amount)
Under $150,000: Standard Cartage Company
$150,000 to $750,000: Barnhart
$750,000 to $2 Million: Fagioli SPA
Over $2 Million: Fagioli SPA
Hauling & Moving (Entry based on net weight of the job)
Less than 160,000 pounds: Fagioli SPA
160,000 to 500,000 pounds: Emmert International
Greater than 500,000 pounds: Transportes Muciño
Moving Job of the Year: Mammoet