ADM Regeneration opts for OilQuick
By Steve Ducker04 December 2017
United Kingdom-based ADM Regeneration has boosted its demolition fleet with a 40 t Liebherr 946 tracked excavator featuring an OilQuick OQ80 automatic quickcoupler from ECY Haulmark.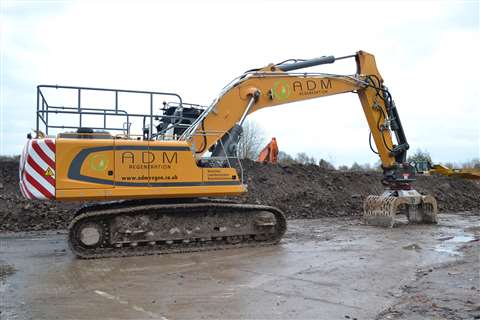 ADM, based in Cheshire in the north of England, also plans to add more of the attachments to its remaining seven demolition spec excavators during the next 18 months.
OilQuick is a fully automatic quickcoupler system which connects a variety of worktools directly to the machine without the operator needing to leave the safety of the cab. Typically, a changeover can be performed from inside the cab in 20 to 30 seconds.
"We took an interest in the OilQuick system for many reasons," said ADM's operations director Paul Cryer.
"Firstly, I had noticed over recent years on large demolition projects that a lot of time is wasted on site by operators having to leave the machine to change hydraulic attachments over manually.
"Secondly, as we all become more environmentally aware it is important that no oil is spilt during the attachment changeover process. Having the OilQuick system installed helps mitigate this. It also adds a cost saving benefit as we are not constantly topping up the oil".
"The OilQuick system also negates the requirement for quick release hose couplings, which don't last very long and are expensive, so all in all over time, it will pay for itself a few times over."