ALE reaches Green Cable milestone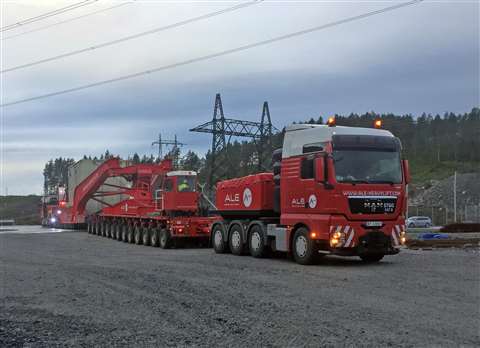 A milestone was reached with ALE's delivery of the first two transformers, each weighing more than 200 tonnes, on the Nordlink energy project in Norway.
Known as the Green Cable project, Nordlink is a joint Norwegian/German renewable energy scheme in Tonstad, Norway. It exchanges renewable energy between Germany and Norway. The 623 km high voltage direct current transmission line is one of the longestof its type in Europe, ALE said. UK-based international heavy transport and lifting specialist ALE is responsible for engineering, transport and installation of 14 transformers. Seven are going to Tonstad and the others to Wilster in Germany.
In June ALE received the transformers at the Port of Kvinesdal in Norway. They were transported on the AL100 girder frame and 26 axle lines of conventional trailer. It was a technically challenging 70 km route through the Norwegian mountains, ALE said. ALE's new local team used its girder frame for the first time in Norway on this project.