Able Equipment Rental gets to work in Times Square
By Lindsey Anderson19 February 2020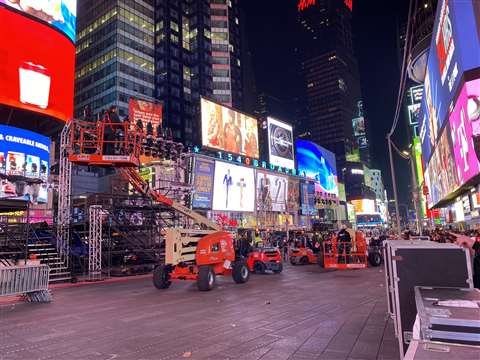 Able Equipment Rental was one of the premier rental equipment companies that supplied machines for the New York City New Year's Eve - Times Square celebration to ring in 2020. From various boom lifts to telehandlers and forklifts, the number of pieces Able provided for this year's event more than doubled versus 2019's total pieces used. ABLE's aerial lifts and material handling machines were utilized for much of the setup of the entertainment, lighting and staging needs. This included the strategic undertaking of constructing and the disassembly of several performance stages – all in a short amount of time.
Equipment included:
• 6 x JLG 450AJ booms
• 2 x JCB 509-42 telehandlers
• 2 x JCB 510-56 telehandlers
• 4 x 5k forklifts (Toytoa, Komatsu)
• 1 x 15k Forklift (Hyster H155FT)
• 1 x Manitou MRT-2550 rotating telehandler
• 1 x Kubota utility vehicle
• 2 x Frost Fighter heaters
A timelapse video of the stage setup can be seen here.