Adapteo rents temporary accommodation to Fehmarn Belt tunnel project
By Leila Steed07 July 2021
Adapteo has begun installing the accommodation and amenities at the specially created "FLC Village" in Denmark, for the thousands of workers employed on the Fehmarn Belt tunnel currently being built between Germany and Denmark.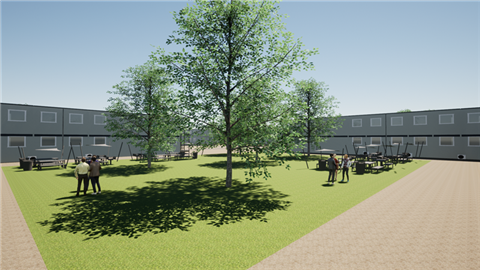 The temporary and adaptable buildings supplier was appointed by FLC Tunnel Group North to supply and manage the flexible buildings for the new 30,000m2 village, which is currently under construction on the Danish island of Lolland.
Adapteo said the first four buildings, the construction of which began in May, would be ready for occupation by the end of this month.
The company will erect a total of 42 flexible units at FLC Village. These will provide Fehmarn Tunnel workers with housing, gyms, mini markets, a hair salon and recreational spaces such as leisure facilities with changing rooms and a canteen.
Phillip Isell Lind af Hageby, President and CEO of Adapteo Group, said, "We are very proud to be able to offer high quality and flexible housing and recreational spaces to the people who are working with this enormous infrastructure project.
"It is the largest order in the history of Adapteo, and we are happy and humble for the opportunity to be a part of the realization of the tunnel that will further conjoin Denmark – and by extension, the Nordic countries – with the continent."
To accommodate the Fehmarn Tunnel workers, Adapteo created a completely new design for the FLC Village buildings.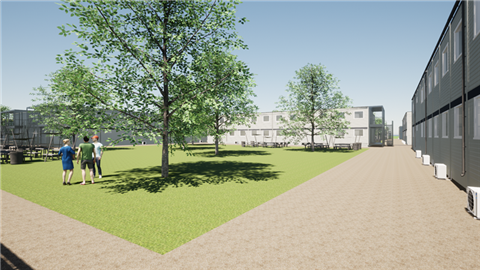 Örjan Berg, product manager at Adapteo, said, "The buildings are 9x3 metres and include private rooms for the residents, bathroom with shower and toilet, and recreational spaces and outdoor terraces.
"This is not something that we have done before, so it is great to see how the buildings are coming along. Our construction is proceeding according to plan, and we look forward to welcoming the workers to their new accommodation soon."
About the Fehmarn Belt tunnel
The 18km long Fehmarn Belt tunnel is an undersea road and rail link. Currently under construction, the immersed tunnel will stretch across the Bay of Kiel in the Baltic Sea, and upon completion will connect the German island of Fehmarn and the Danish island of Lolland.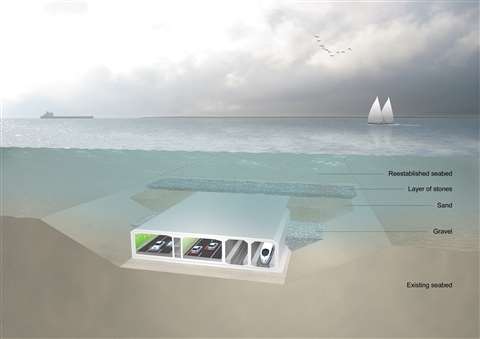 Estimated to cost around €7.4 billion, the project is being funded by the Danish government, with some funds being provided by the European Union through its Connecting Europe Facility.
To accommodate the new transport link, a new harbour at Rødbyhavn has also been under construction since November 2019.
A Memorandum of Understanding for the permanent link between Denmark and Germany was first signed back in 2008. In 2009 the European Commission approved €194 million of public sector funding for the planning phase, which was carried out by a special vehicle company owned by the Danish Transport Ministry.
Following an investigation, the financing for the project was cleared by the European Commission in March 2020, allowing developer Femern A/S to activate the main construction contracts with the Femern Link Contractors.