Another new Potain hydraulic luffer
By Alex Dahm17 February 2020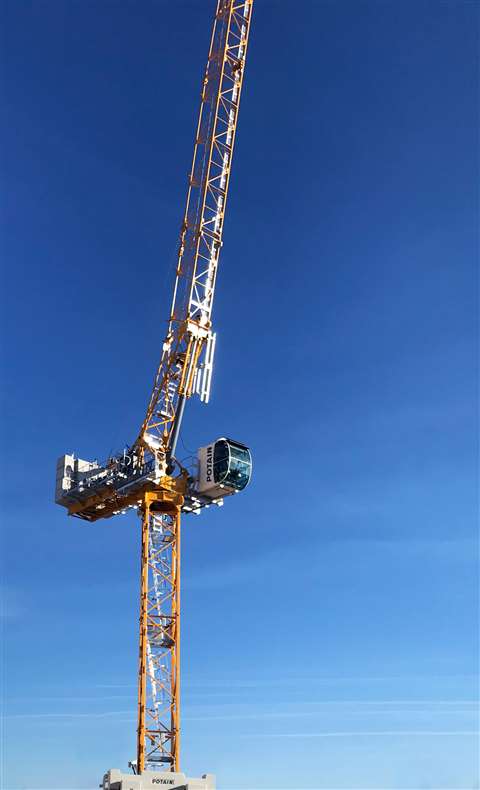 Tower crane manufacturer Potain has announced the MRH 175, a new hydraulic luffing jib model making its debut at the ConExpo 2020 exhibition.
It will be on display during the 10 to 14 March show in Las Vegas, USA, at the Manitowoc booth. The MRH 175 is the second hydraulic luffer from Manitowoc and at 10 tonnes capacity, is bigger brother to the 8 tonne MRH 125, first shown at the Bauma China show in Shanghai in November 2018. Since then dozens of models have already been delivered to a range of markets, Manitowoc said.
Maximum jib length is 55 metres at the end of which capacity is 1.5 tonnes, or 2.7 tonnes with a shorter, 50 metre, jib. Line speed can be as high as 215 metres/minute with the high-performance 90HPL25 hoist. Hydraulic luffers can have a smaller counter jib and out of service radius (10.2 metres) than rope luffers. Target applications are urban projects, high rise construction and sites with limited space.
Design features such as the fixed counter jib and flat top structure help with fast erection and dismantling. It only needs four standard shipping containers for transport. Elements weigh less than 7.7 tonnes and the counter jib and jib foot are in one package. Its hydraulic design means no wire rope to install and a smaller assist crane is needed for erection as there is no cathead to assemble.
Freestanding height can be up to 62.8 metres on the 2 metre K-mast. It can also be set on a 1.6 metre K-mast. Up to 956 metres of hoist rope is available with the 90HPL25 winch. Luffing from horizontal to vertical takes less than two minutes, the manufacturer said.
Thibaut Le Besnerais, vice president of global products for tower cranes at Manitowoc, said both models feature designs that give users capabilities not available with other cranes. "In recent years under The Manitowoc Way operating system our product development has accelerated and what's exciting about this is not only the number of new cranes we're introducing, but the innovation they bring to market."
Le Besnerais continued, "Potain customers have seen the advantages these new cranes deliver and how they help them achieve a stronger return on investment on their projects. We have a strong technical training programme to accompany our new MRH cranes, and the feedback from the market has been very positive."