Arcomet in commitment to Germany tower crane market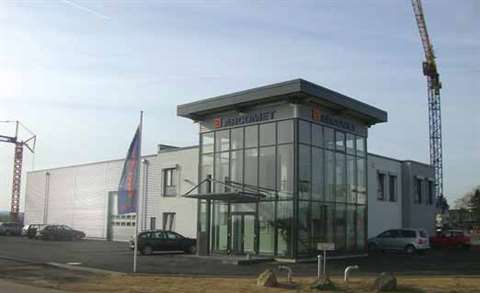 The world's largest tower crane-owning company, Arcomet, has expanded further with the opening of a new headquarters for Germany. Arcomet Deutschland GmbH & Co KG, in Zülpich near Köln, is formed by the merger of B.K.L. GmbH, already in Zülpich and taken over by Arcomet in 2000, and Krane KG Arcomet GmbH & Co, based in Schönefeld-Berlin and founded in 1994. Arcomet Deutschland GmbH&Co KG is a daughter company of the Arcomet Group, which, with a fleet of about 1,600 units, is the world's largest tower crane rental company.
The company has a long business history in Germany, beginning with the sale of its unique VK and T series self erecting tower crane ranges in the last century. During the construction boom initiated by the reunification of East and West Germany Arcomet, in 1994, set up a crane rental business in Berlin. Featuring strongly were top slewing cranes, especially the Raimondi MR series city crane design under the Arcomet logo in Germany. During the following recessive years, Arcomet in Germany still managed to keep its market share in the country by operating a strict customer orientated turnkey tower crane service and a fair price policy.
In 2005 Arcomet took over Zeppelin Hochbautechnik with its broad fleet of BKT type tower cranes well known for their top slewing crane range in an original flat top crane design. Although these cranes offer economic transport and rigging features, their still-reliable slipring motor drives are no longer the state of the art in tower crane design. The redeveloping market in central Europe calls for frequency driven units so Arcomet sold most of the older BKT cranes and is replacing them with all-new Potain and Terex Comedil flat tops.
Growing younger
Following the Arcomet group's strategy it is the ambitious aim to achieve a fleet with a maximum crane age of seven years by 2010. Before the acquisition of Zeppelin Hochbautechnik, B.K.L GmbH and Arcomet in Berlin together operated a fleet of about 160 cranes. Today the number of cranes in the newly formed company Arcomet Deutschland GmbH & Co KG is well over 300 units in the 20 to 350 tonne-metre capacity class. In response to the forecast strong upturn in the German economy for 2008-2009, further growth is expected to take the fleet up to 350 or 400 cranes.
Zülpich, only about 135 km from the main Arcomet office in Paal-Beringen, Belgium, was chosen as head office for the Arcomet operations in Germany. Local depots are strategically located in Schöneck near Frankfurt, Schönefeld near Berlin and Alt Tröglitz near Leipzig to provide a close link to local customers.
With its network Arcomet Deutschland can respond to nationwide demands for rental tower cranes. Affiliated activities, including transport, erection and dismantling, site inspections and qualified general service and repair work, can be carried out on Arcomet's own crane fleet and on customer cranes.
The new facility in Zülpich has a 15,000 square metre yard for storage of crane equipment and a modern office building plus a workshop organized in the "transparent" Arcomet house style. The 40 employees of Arcomet in Germany also help with sites outside Germany. German contractors working abroad can benefit from the support of the international Arcomet network.
As an example, this year 22 tower cranes have been delivered to a German construction company working in Norway on a large highway extension project. Here, Arcomet self erecting cranes in the 40 to 45 tonne-metre range are used for bridge projects. In addition, 150 to 300 tonne-metre saddle jib top slewing cranes are working on a large viaduct construction site. Tower heights are between 30 and 76 m and the specification is for work under harsh Scandinavian winter conditions.
The self erectors have to be relocated several times by Arcomet to follow the construction project stage. For cost effective movement the cranes can be towed either on high-speed axles up to 80 km/h or on standard axles by purpose built trucks with loader cranes carrying a large amount of, or even the total, required ballast. In addition, special electrically driven axles can be provided to move self erecting cranes on cramped sites. Adapter systems also allow the transportation of customer cranes of other brands.
The proven traditional T-series self erector and its adaptability to individual construction sites made possible by the double telescoping system of jib and tower, allows Arcomet to defend market leadership for this tower crane design concept. Finding a ready market in Germany are the newer Arcomet extensions to the higher capacity end, for example, the A42 with 42 m jib and a tip load of 1,1 tonnes, as well as the A45 with 45 m jib and a 2 tonne tip load.
Core brands
While in the self erecting crane segment Arcomet is traditionally focusing on its own design, the fleet of top slewing cranes is being streamlined on the two core brands of Potain and Terex Comedil. This means that Terex Comedil cranes are penetrating the competitive German market for the first time in larger numbers.
Potain cranes' resale value internationally means they are a major part of the fleet renovation programme of the German Arcomet subsidiary. To cater for local customer requirements Arcomet concentrates its investment programme for Germany on the 120 to 350 tonne-metre class range. Most cranes are hired out on fixed city cross bases and are rigged to full height using mobile cranes. Fleet additions are all flat top models because of their considerable advantage in terms of transport, assembly and flexibility of use.