Arrests made after dam disaster
By Andy Brown30 January 2019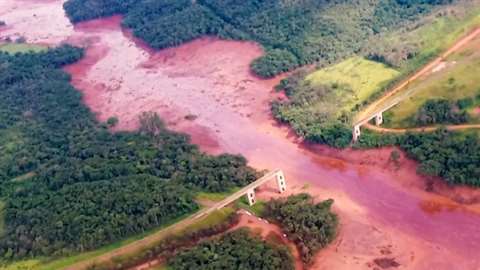 Five people have been arrested in the aftermath of the Brumadinho dam incident in the Brazilian state of Minas Geraisin, which saw the dam fail and iron ore waste seep out. Current reports state that at least 65 people were killed in the incident.
The dam was operated by mining firm Vale, the world's biggest producer of iron ore and nickel. Its mines produced around 400 million tonnes last year, mostly for export to China.
Of the five people arrested, three are employees of Vale and two are subcontracted engineers.
The dam that burst was 86m in height and the tailings (iron ore waste) covered an area of 250,000m².
The incident comes less than four years after another tailings dam collapsed in Minas Gerais in 2015, killing 19 people in what was Brazil's worst environmental disaster. That dam was operated by Samarco, which at the time of the disaster was jointly owned by Vale and mining firm BHP Billiton.
Brazil's regional development minister, Gustavo Canuto, said that nearly 4,000 dams in Brazil were classified as being at high risk and that 205 of those dams contained mineral waste.