Ausa launches 'urban forklift'
By Murray Pollok12 November 2020
Ausa has launched what it calls an 'urban forklift' in the shape of the C201H, a 2000 kg payload model with compact dimensions for inner city use.
The new forklift is a total redesign of the existing C200H and shares the platform of its bigger brother, the C251H, although is different from both.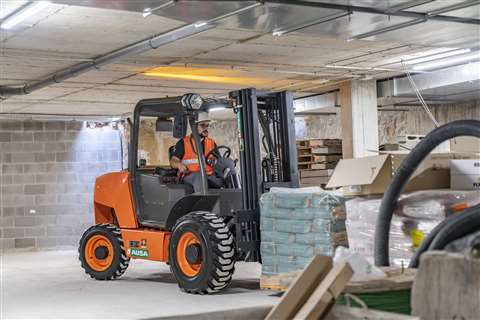 "Our aim was to launch a very compact 2000 kg payload forklift that was able to enter car parks and maneuver nimbly in tight spaces", said the Spanish manufacturer, "Although being an all-terrain forklift, it is totally urban focused."
Ausa added that the machine would suit rental companies because of its low height and ease of maintenance.
The machine's stowed height is 2.09 m and it measures 1.52 m wide. The forklift is supplied with a range of masts, from the standard duplex mast that offers 3.30 m height of lift to 3.70 m, 4.30 m and 5.40 m triplex masts.
The C201H is available in two versions, with 4x4 or 4x2 hydrostatic drives, and incorporating limited-slip differential on the front axle as standard. Both versions have an 18.5 kW Kubota V1505-E4B engine, which provides enough power to drive up slopes of 40% at full load.
The 4x4 has Ausa's FullGrip system, which can engage the four-wheel drive by pressing a button on the joystick.
A tilting cab and engine top cover are designed to make it easy to maintain, and the cab has a digital screen with self-diagnostics, which allows the operator to quickly view error codes.