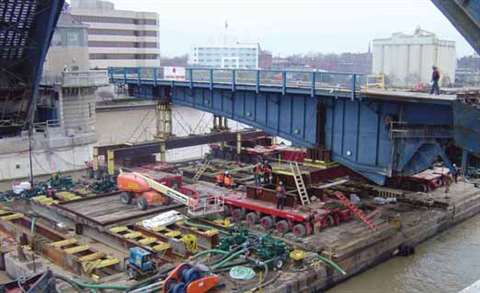 The MLK (Martin Luther King) bridge on the Maumee River in Toledo, Ohio, US needed major work to replace its elevating bascules. The old ones are being removed, taken away for demolition and replaced with new prefabricated ones. Four bascule leaves are being raised from their tracks and rack frames using the elevating power of the hydraulic suspension system of self propelled modular transporters (SPMT).
Operations are conducted from floating barge platforms on the river under the bridge. Mounted on the barge are 48 lines of SPMT arranged in four groups, each with a power pack unit. Cribbing on their platforms allows the SPMT to engage the bascule drawspans from their closed horizontal position. The bascule drawspans are individually floated to the staging area where the SPMTs roll them off the barges and manoeuvre them to the demolition bay.
Stranding up
The new spans are erected at the same yard. Once a bascule section is complete the entire assembly is lifted from its steel cribbing supports using a gantry equipped with two of Fagioli's L100 and two L300 strand jacks and loaded and secured to a travelling set of cribbing mounted on the platforms of the SPMTs.
The steel bridge section's centre of gravity for each new bascule leaf does not fall between the front and back SPMT. This means that an auxiliary set of counterweights is suspended from the front end of the bridge section by means of four type L100 strand jacks. After being rolled onto the barges the new bascule sections are floated to the bridge site in downtown Toledo and positioned using the hydraulic system of the SPMT.
Lifting time
To keep the new sections in position for the time necessary to pour and cure the concrete counterweight, their ends are lifted using 24 m high luffing towers equipped with a pair of L100 strand jacks. This system is also used to raise the leaves to allow their engagement.
Each old steel and concrete bascule with its attendant cribbing weighs about 460 tons. The new ones are 1,100 tons. Work on the job is progressing 24 hours a day, seven days a week, according to Fagioli. At the time of writing two of the four bascules had been replaced with new ones. After the remaining two sections are replaced during the winter of 2007-8, the concrete road deck will also be replaced.
The concrete arch bridge originally with steam-powered lift spans was first called the Cherry Street Bridge and was built between 1910 and 1914 at a cost of $1.2 million, according to the Toledo Blade newspaper..