Besix to build controversial €670m Tour Triangle in Paris
By Mike Hayes24 January 2022
High-profile skyscraper gets green light, 15 years after initial proposal
Belgian construction firm Besix has been awarded a €670 million contract to build a 180m-high triangular skyscraper in the heart of Paris.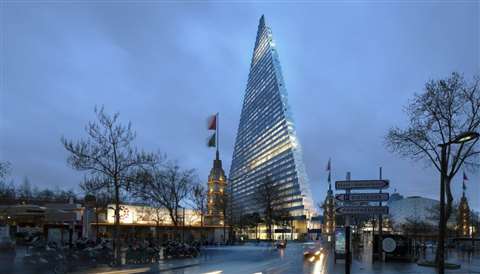 The Triangle will be the third-tallest building in the French capital, when completed.
Some 15 years on from the initial proposal - and following numerous objections from critics - the developer, Unibail-Rodamco-Westfield (URW) was given the go-ahead to move to the construction phase of the project.
Designed by Swiss-based Herzog & de Meuron, the tower is intended to comply with BREEAM (Excellent) and HQE (Exceptional) green building standards.
The structure will include 1,000m2 of photovoltaic panels, a bioclimatic façade and geothermal heating systems.
Triangle will incorporate low-carbon materials, with at least 50% of its concrete featuring CO2 emissions. Recycled materials will also be used, particularly for the aluminium facades.
Set to include offices, a conference centre, shops, restaurants and a hotel, construction of the 42-storey Triangle is set to start before the end of the year, with completion expected in 2026.
Pierre Sironval, deputy CEO of Besix Group, said, "Besix is very proud to build the Tour Triangle, a technically, logistically and architecturally demanding building. We are particularly grateful for the trust placed in us by Unibail-Rodamco-Westfield in awarding us the construction of this building. It joins the prestigious buildings built by Besix around the world, including the Grand Egyptian Museum in Cairo and the Burj Khalifa in Dubai, the world's tallest tower."