CECE raises ePrivacy concerns
By Sandy Guthrie09 February 2018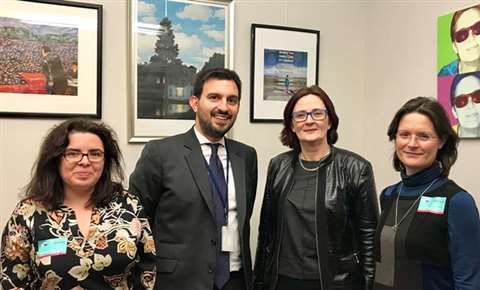 Concerns of construction equipment manufacturers about the draft text of the European ePrivacy Regulation have been raised by CECE (the Committee for European Construction Equipment).
The concerns were raised in a meeting with Birgit Sippel MEP, European Parliament's special rapporteur for the proposed ePrivacy Regulation.
Chair of CECE's working group on data regulation Charlotte Le Bozec (from French association of manufacturers of construction equipment and material handling technology CISMA, and Caterpillar), brought up the inclusion of machine-to-machine communications in the scope of the draft regulation.
As CECE has said before, construction's purely business-to-business environment does not aim to capture communication of or about people, and it said the type of communication that happened on a construction site between machines followed the model of contractual freedom.
Therefore, CECE urged Sippel to make sure that the legal framework for machine manufacturers would be limited to the protection of personal data through the EU General Data Protection Regulation, which is due to come into force in May 2018.
Sippel agreed that if personal data was not involved in the communication, the ePrivacy regulation should not come under consideration.
CECE said it would continue its advocacy so that machine-to-machine communications for the construction industry were not unnecessarily pulled in the scope of the ePrivacy Regulation.