Catching a rainbow
By Leila Steed20 January 2021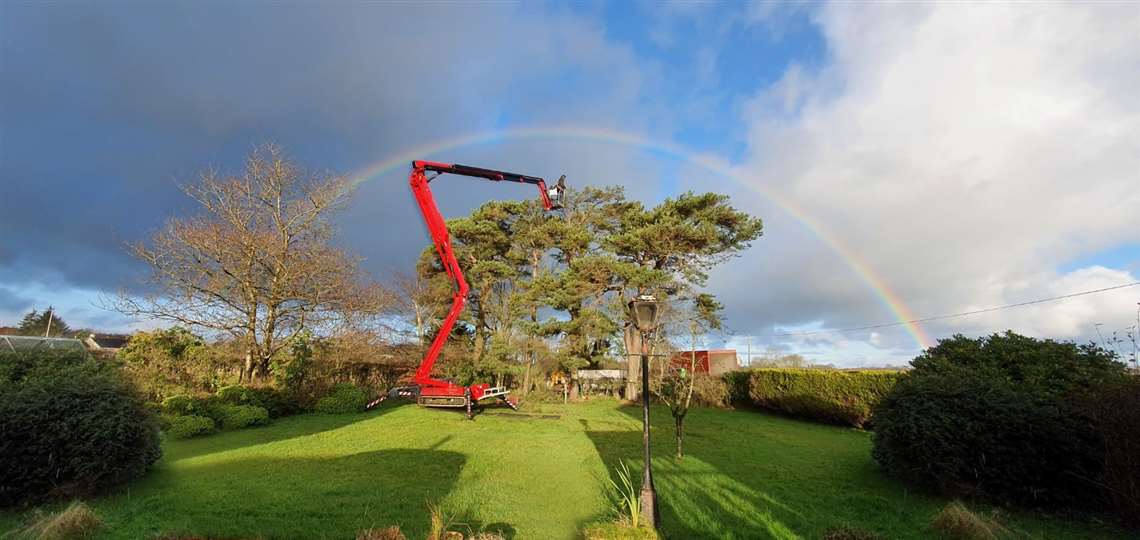 A Northern Ireland-based tree surgeon found himself under the multi-coloured light of a picture-perfect rainbow while carrying out work on his new Hinowa spider platform.
Ian McClelland, who's business operates under the same name, was using his Hinowa Lightlift 26.14 Performance IIIS to trim fir trees for client when the rainbow appeared behind him. The sight was captured by McClelland's client who took several photos of the garden scene on his mobile phone. The tree surgeon, who was concentrating on his work, did not become aware of what had appeared in the sky behind him until his client showed him the images.
Ian McClelland said, "I had my head down busy at work so didn't know what was going on until after the rainbow had disappeared. But the pictures are great. The rainbow couldn't be more perfectly placed behind the spider platform and the clouds and sunshine together made for a dramatic shot.
"It made a relatively straightforward job quite special. We'll have to wait a very long time to get the same opportunity. No pot of gold this time either, but a great record of the occasion."
McClelland, who was working at height in his Hinowa LL 26.14 at the time, had only recently taken delivery of the new machine as a replacement for his previous platform. The model has a maximum working height of 25.7m and an outreach of 13.6m. It was supplied by Hinowa's UK and Ireland distributor Access Platform Sales (APS), which had previously provided McClelland with a Hinowa Lightlift 20.10 Performance IIIS.
Shane Paver, northern sales director for APS, was pleased McClelland shared the photos. He said, "It puts a smile on the face of everyone who sees it, and it shows the Hinowa in a very good light."