Coates orders pressure cleaners for dock
By Thomas Allen18 December 2019
Australian rental company Coates Hire has ordered an undisclosed number of Aussie Pumps' new Aussie Atlas pressure cleaners.
The new pressure cleaners are Aussie Pumps' latest range of stainless-steel machines designed for saltwater environments, namely in shipyards.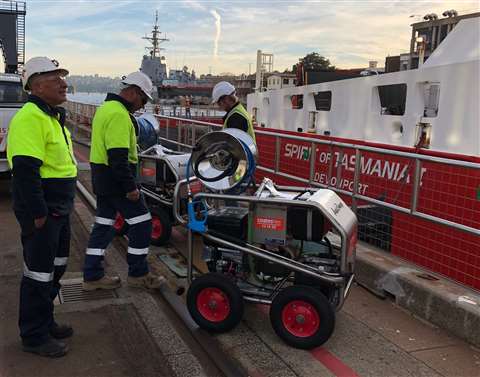 Coates will be making the units available for rent from Garden Island Dockyard in Sydney Harbour. As the Australian Navy's leading base, it is one of the busiest repair yards in the country.
The first machines delivered have a heavy-duty stainless-steel hose reel rated to 5,000psi. On the reel is a 30m length of blue, non-marking hose rated at 5,800psi.
Incorporated in the frame is a 30 litre stainless-steel break tank, which helps to protect the blaster's triplex pump from variations in supply at the dry-dock site.
At the machine's heart is a Bertolini 'Big Berty' triplex pump that runs at 1,450rpm. It is driven through a Bertolini two-to-one reduction gearbox.
Aussie Pumps' HP Manager Hamish Lorenz said, "The gearbox is sealed and runs in oil, just like the pump's crankshaft and con-rods. Using a big pump and reduction box provides for long, trouble-free life."
The Atlas gets its power from a Hatz 1B50 air cooled diesel engine that delivers 9.2hp (6.8kW).
Lorenz said, "We specked in a 21 litre fuel tank to allow the machine to run continuously for up to ten hours between refuelling."
The use of Aussie Turbo guns ups the pump's pressure from 4,000psi to 6,400psi of effective working pressure. This was said to be important for the refurbishment of large ships.
Another important feature of the unit is its manoeuvrability. Aussie Pumps said ease of moving the machine on and off vessels is an absolute requirement for all dry-dock applications.