Compact crushing – A piece of the action
Built from scratch 30 years ago, Richard Forster's company has now developed into an industry specialist with 27 employees. The recycling professional from Steinkirchen, Germany, has always been focused on the processing of contaminated soil, gravel, stone, litter, construction rubble and waste from sewer cleaning.
The company has three landfills, as well as a thermal processing plant, which transforms contaminated rock or debris into perfectly recyclable material. Forster's regular customers include several road construction companies and municipalities, district and water management offices, as well as the German National Railways, for which he regularly recycles track ballast.
Today the company is using compact crushing equipment from Austrian company Rockster.
Richard Forster has been using mobile crushers for processing granite, track ballast and construction debris for quite some time, however those crushers were always rented from a contractor.
"With our own crusher, we can process the material at any time, which increases our flexibility," said Richard.
A mobile crusher in the 35 t range
He had been looking for a mobile crusher in the 35 t range and tested a few, including the Rockster impact crusher R1100DS with screening system and Cat C9 Stage V engine.
"We wanted to get an idea of the performance and operation of the crusher. My machine operators have to be convinced of the system, because they are supposed to work efficiently with it," he said.
Rockster offered an opportunity to put the R1100DS to the test at the company's own recycling centre.
"The large openings and good access to the engine compartment make service and maintenance easier. We also have much better experiences with hydraulic drives as is the case with Rockster's fully hydraulic drive in comparison with diesel-electric drives, where you have to expect cable breaks and which are usually more sensitive to dust or vibrations."
Because the crusher is used on multiple locations, transport was also an important issue. "I like the fact that we don't have to disassemble anything on the R1100DS to transport it, just fold in the screening system and drive it onto the flat-bed trailer," Richard explained.
Richard and his team most often produce 0/60 material for underground stabilisation from broken concrete or mixed rubble. The granite gravel from the railway is processed to 0/16 or 0/32 mm end product, which said to be is ideal for road construction as an underfill or for land consolidation.
"Performance and material quality are really excellent, the composition of fine and coarse fraction is exactly right for our customer requirements. The attached air blower also works perfectly. It has the optimal suction to blow away non-aggregate materials such as polystyrene, textiles, wood parts, plastic or ytong [aerated concrete] parts.
"This light material is collected directly in a container, which is surrounded by a net, and can then be disposed of. Everything is done in one step."
An optimal system with the Rockster R1100DS
Rockster sales manager Norbert Feichtinger added: "I was immediately convinced that we could supply the most optimal system for Forster Recycling, since we use our impact crushers particularly for construction rubble and granite processing and therefore have extremely good experience."
Rockster has also demonstrated its capability outside of Europe.
Titan Enterprises is a large construction company in Virginia, USA. Its main area of business is commercial and residential concrete construction and CEO Jack Pereira and partners recently acquired a well-equipped recycling site in Myrtle Beach, South Carolina (SC) which gives the company an opportunity to make its own construction material. Concrete is mainly recycled on site and later reused for its own projects.
The first step was to establish the SC Recycling Centre, followed by finding the best machinery for the new location and this was not easy. After testing crushers in the 25 t range it chose Rockster's R900 impact crusher and its hydrostatic concept.
"The hydrostatic pressure adjusts to the power requirements of the crusher, resulting in a very constant crushing performance," said Rockster CEO Wolfgang Kormann.
"Moreover, the diesel engine always stays within the optimum speed range."
One of Titan's main demands was to produce three different fractions, so Rockster offered the RS410 scalping screen alongside the R900 impactor. RS410 is Rockster's best-selling screen due to its ease of handling, robust construction and compact measurements.
At present, all the concrete and recycled asphalt pavement at the SC Recycling Centre is for Titan's own use. However, if demand for recycling increases, the company said it is considering expanding into contract crushing.
Terex Finlay expands with IC-Range
In terms of product development, Terex Finlay is expanding its mobile crusher line with the introduction of its IC-Range of compact impactors.
The IC-Range of compact impact crushers has been specifically designed for construction and demolition debris, reinforced concrete, asphalt recycling and quarrying applications.
It comprises four models – the IC-100, IC-100RS, IC-110 and IC-10RS.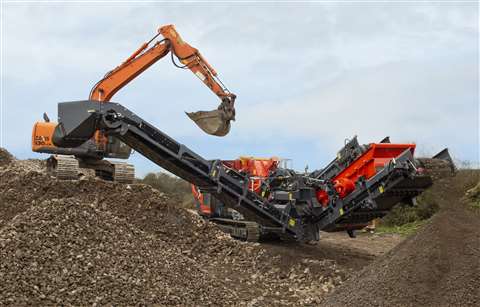 "The addition of these four new models complements our existing range of mobile impact crushers and opens up new opportunities at the smaller machine sector of the market," said Alan Witherow, Terex Finlay lead technical support and product manager
"Each of these models is been rigorously tested and proven in a diverse range of applications. The compact size, ease of transport, quick set up times and intuitive operation make each machine ideal for contract crushers, independent rental houses and small-scale operators."
The IC-100 features an 860 x 860 mm (34 x 34 in) direct drive horizontal impact chamber with variable rotor speed. The advanced electronic control system monitors, controls and regulates the speed of the vibrating grizzly feeder to maintain a consistent feed of material into the impact chamber to maintain optimal crushing capacity.
Based on the IC-100, the IC-100 RS features an onboard recirculating system and detachable sizing screen to provide the versatility of a compact crushing and screening plant on one mobile. If recirculating and sizing materials is not required, the sizing screen can be quickly detached from the machine without the need for secondary lifting equipment. The recirculating conveyor can also be used for stockpiling an oversize product.
Key features are a detachable 2.44 x 1.2 m (8 ft x 4 ft) single deck afterscreen; fines and transfer conveyor for open circuit crushing; and also a recirculating conveyor that can be rotated from closed loop configuration and used for stockpiling making an additional oversized product.
Overload protection
The IC-110 features a 1,034 x 1,000 mm (41.5 x 40 in) direct drive impact chamber with variable rotor speed and hydraulic apron setting assist to provide convenient and efficient adjustment of the chamber apron. The chamber is also fitted with hydraulic overload protection system as standard. For operators in recycling and demolition applications an underpan feeder is also available as an option. The crusher chamber is supplied with a four-bar rotor and two-apron design for large reduction ratios and consistent product shape.
Making up the quartet, the Terex Finlay IC-110RS impact crusher is described as providing the versatility of a compact crushing and screening plant on one mobile platform for construction and demolition debris and other applications. A key feature of the machine is the onboard 2.74 x 1.5 m (9 x 5 ft) single deck screen. For applications not requiring recirculation of oversize material back to the crushing chamber or stockpiling an oversize product the complete screening and recirculating system can be quickly detached from the machine.
A leading compact crushing and screening equipment manufacturer, EvoQuip has introduced the Bison 160 hybrid hook-lift jaw crusher.
Described by the Terex brand as ideal for construction and demolition recycling applications and urban areas, this is the fourth model in the Bison series and the first to use hybrid diesel-electric drive technology to reduce running costs in addition to cutting noise and fuel emissions.
The dual-powered Bison 160 is equipped with a proven 700 x 500 mm (28 x 20 in) single toggle hydraulically adjustable jaw crusher.
EvoQuip Bison 160 addresses restricted sites
It has been designed with the specific needs of the owner or operator in mind, including working in space-restricted sites. EvoQuip said that ease of transport, compact size, ease of operation and quick set-up times all mean the machine can get to site easily and begin operation within minutes of unloading.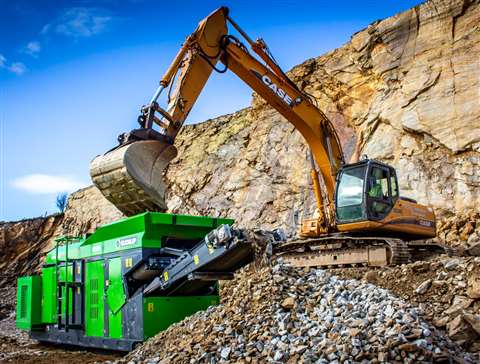 The new Bison 160 includes a heavy duty vibrating grizzly feeder, and the feeder control system is based on power draw and feed level to ensure optimal material flow in the jaw and throughput.
"The Bison 160 Hybrid hook-lift jaw crusher represents a new milestone for us," said EvoQuip product line director Matt Dickson.
"It is an ideal crusher for waste contractors who can use existing hook-lift vehicles to either bring material to depot for processing or alternatively bring the crusher to the waste on site – turning waste into profit while providing productivity and fuel efficiency."
"The incorporation of the hybrid diesel-electric drive technology; quick set up times, simple operation and ease of transport are all issues which our customers have identified as key priorities for the future."
Key to the design of the EvoQuip Bison 160 is that it is small enough to fit easily inside a standard 12 m (40 ft) high cube container yet is said to be formidable enough to withstand challenging applications.
Article first published in the April-May 2020 issue of Demolition & Recycling International