Concrete: Sustainable option
By Sandy Guthrie26 April 2017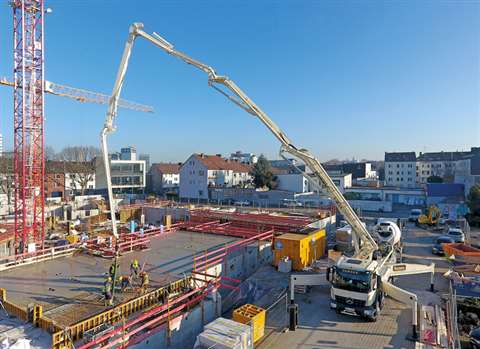 Concrete is the most widely used material in the world, after air and water, according to Cembureau (the European Cement Association), which is highlighting EnCoRe, a European Union-funded project, which has developed guidelines for making sustainable concrete from recycled ingredients, aiming to help the construction industry reduce its environmental impact.
Cembureau said that while standard concrete used for houses and buildings was a mix of water, cement and aggregates such as sand, gravel, or crushed stone, researchers involved in this project were confirming that recycled substitutes could be used to replace some of these ingredients.
This, it said, would make concrete production more sustainable.
It said the project had produced three model guidelines on the technical standards for using recycled concrete, steel from waste tyres and natural fibres obtained from plants, such as sisal. These model guidelines are recommendations for the construction industry on how to produce, process and mix concrete with recycled ingredients, according to project co-ordinator Enzo Martinelli of the University of Salerno, Italy.
Martinelli said, "Before EnCoRe, the level of knowledge on the mechanical performance of concrete made from waste was mainly empirical and consisted of various proposals merely based on experimental observations.
"Our project has formulated a fundamental approach for predicting the relevant mechanical properties of the materials under consideration."
The project's research and the three guidelines have been disseminated to European and international industry organisations.
During EnCoRe, project partners tested different combinations of recycled ingredients. These included waste concrete, steel recovered from old tyres, fly ash left over from coal combustion, and natural fibres from sisal, a type of agave plant.
The products were tested for durability, strength and other mechanical properties needed to ensure their performance matched that of standard concrete.
Waste concrete was crushed to obtain recycled aggregates, which were then used to partially or totally replace those normally incorporated in regular concrete.
Recycled steel fibres from waste tyres were used to replace industrial fibres used for fibre-reinforced concrete. Natural fibres obtained through sustainable processes from sisal were used to reinforce mortars and as activators of the material's self-healing capacity.
EnCoRe developed production protocols for concrete produced using these recycled and natural ingredients, as well as design rules for the final concrete products.
Working with universities
EnCoRe also sought to stimulate research and co-operation among the partner universities in Italy, Portugal, Brazil and Argentina through staff exchanges. Some 88 exchanges occurred during the project.
Martinelli said, "The research could have a huge potential impact on both the building industry and the management of waste in urban areas and industrial districts.
"Demand for sustainable buildings, renewable materials and reduced CO2 emissions indicates an emerging need for optimising the disposal procedures of wastes derived from both the building technology and other industrial processes."
At the end of that project, Martinelli became co-ordinator of SUPERCONCRETE, an EU-funded project addressing the subject of improving sustainability in concrete production. The project aims to develop EnCoRe's research further and disseminate the information to engineers, concrete technologists and decision makers.
Another innovation at the raw material stage can be seen with Powercrete, developed by HeidelbergCement. It is a heat-conducting concrete which is designed to help dissipate the heat generated by high-voltage and ultra high-voltage electrical cables, but with the same ease of placement as normal concrete.
The product's high thermal conductivity means it can be used as a bedding and infill material for underground high-voltage and ultra high-voltage cabling, helping to minimise transmission loss.
Powercrete's first appearance in the UK, through HeidelbergCement's Hanson subsidiary, has been at Iver, Buckinghamshire, where 217m3 were used to encase the 175kV cables which send power to Heathrow Airport.
Concrete technical sales manager Jasen Gauld said, "Power cables are increasingly being run underground, generating energy savings and reducing the visual and environmental impact created by pylons. However, heat generation can be an issue with underground cable runs – as the cable temperature rises, so does the resistance, increasing transmission loss.
"Using Powercrete allows you to increase power capacity, reduce conductor cross sectioning or switch to aluminium conductors. It also serves to reduce magnetic field strength for alternating current and mitigate hotspots."
Powercrete is described as a sustainable and long lasting solution. Mixes can incorporate Regen GGBS (ground granulated blastfurnace slag), a by-product of the iron-making industry, used as a cement substitute to further improve the concrete's sustainability credentials.
Hanson said the consistency of Powercrete could be adjusted to suit the application, and its cement and concrete specialists are available to work with clients and specifiers to maximise the performance of the mix. This approach is currently being taken at Hornsea Project One, the world's first gigawatt offshore windfarm.
Turning to the machines that are used for concrete in the construction industry, Cifa has a range of truck-mounted pumps, and said it had a product strategy that emphasised diversification based on three lines – Carbotech, Steeltech and Classic. It said the three different configurations were designed to meet the various needs of each area and each company.
Top of the line
The top of the line is the Carbotech series that includes a range of models with complete configuration even in the standard version, 360° electronics management with control over the pumping unit, stabilisation and operating parameters, distribution arms in carbon fibre which Cifa said guaranteed sturdiness, light weight and less oscillation during the work phases.
The range includes the K60H, which with a lightness derived from the new design and the carbon fibre technology used for the boom, is described as very light for a machine of its class. It can be fitted on four and five axle vehicle chassis.
The K60H has a 60m arm made up of six sections – the last three in carbon fibre – with RRZ folding geometry.
The K60H mount has the new and high performance HP1808ECX closed circuit pumping unit with a maximum capacity of 180m3/h, 83 bar maximum pressure and 260mm concrete tubes that allow the maximum cycle per minute to be held to 27.
The Steeltech series offers the capability of fitting a range of accessories and optional equipment. With particular attention to the total weight to comply with European road limits, this range has the most models and configuration variations..
It includes the K42L, which was launched in Europe in 2016. It has a newly-designed five-section boom and a length of 42m.
The Classic range is said to include a reliable, easy-to-service, standardised product in a standard colour and configuration with no optional equipment or accessories available. Cifa said this range was available in a limited number of models in a few selected markets which did not require any diversification of the product configuration.
Another Italian company, Carmix, introduced the 3500 TC last year. It claimed to have revolutionised the self-loading concrete mixer world with a model intended to break with convention.
The new model was said to further development that had made Carmix a real mobile concrete mixer.
A new electronic dosing system for ingredients is supplied as standard for this model. Concrete-Mate is described as an innovative new electronic weighing system created by Carmix. It said it was the only system that ensured batches of the highest quality and extraordinary performance, thanks to four load sensors located beneath the drum.
Carmix said the Concrete-Mate allowed easy and intuitive creation and management of up to 20 mix-designs with 99 different components, taking into account the moisture content of the materials involved.
Also on this model, Carmix has introduced Promix, which it described as a genuine laboratory, which, by means of a stainless steel probe in the concrete mixer, allowed the operator instantly to control data for the concrete – slump, temperature, volume, etc.
Carmix said the machine could be considered a real mobile concrete mixer since it could be fitted with an automatic dosing system for additives for preparing any type of concrete required.
Boom manoeuvrability
German-based Schwing claimed that its truck-mounted S 38 SX Reptor concrete pump defined the 30m class. It said that the "practical", wide boom opening angles and the resulting high flexibility meant the S 38 SX showed boom manoeuvrability on site.
It said the use of a truck-mounted concrete pump in industrial and commercial buildings needed solutions that worked well in a small space and under difficult conditions.
For these requirements, Schwing said it had re-developed and re-defined the S 38 SX Reptor with the new boom package for the 30m boom class.
It said that in confined working conditions, it was logical that the more flexibly and ergonomically the boom could be positioned, and the more straightforward the machine was in use, the faster and safer challenging concreting could be mastered.
The key is said to be the roll-fold and wide opening angle. High flexibility and intuitive operation are ensured, it said, by the wide opening angles of the S 38 SX Reptor boom arms and the easily controlled roll-fold.
Jost Amersdorffer, sales manager, said, "During the product development, we have searched for a close dialogue with our customers and worked intensively with the practical requirements of jobsite situations.
"The S 38 SX Reptor offers maximum versatility of use in conjunction with the Schwing typical efficiency and reliability. The feedback from our customers confirms that we are right with this concept."
The patented Super-X outriggers of the S 38 SX Reptor are said to offer full stability and low space requirement and, in conjunction with an 8x4 chassis, allow the mounting of a long stroke pump kit P2525 with 2.50m delivery cylinders. The company said that this ensured about 20% fewer strokes than otherwise required in this class of pump kit.
For a standard practice output rate of almost 60m³/h, the long stroke pump kit P2525 requires no more than eight strokes per minute, said Schwing.
There are three different chassis versions to choose from for the mounting of the concrete pump.
Schwing claimed that in connection with a 6x4 chassis with 4,500mm wheelbase, an operating weight of under 26 tonnes with high mobility can be realised. The 8x4 chassis with an identical wheelbase, allows higher payloads, it said, while achieving an even smaller turning circle.
If the long-stroke pump kit P2525 is chosen for further reduction of wear costs, then the concrete pump is mounted on an 8x4 chassis with 5,150mm wheelbase.
SBM Mineral Processing has added a mobile concrete mixing plant called Minimix. The company said that with the new mixing plant, it had succeeded in building an extra-productive plant as a result of an output capacity of 50m3/h of hardened concrete. It added that the plant worked successfully even if very small quantities of concrete were produced.
SBM said the outstanding feature of Minimix was that it needed extremely little space. It can be set up directly on the site and delivers the concrete to the construction crane, the concrete pump or the truck mixer without requiring any intermediate steps.
It pointed out that this resulted in considerably reduced lorry traffic, and just-in-time concrete production. Another advantage lies in the fact that the plant offers 12% more storage volume for aggregates and 50% more storage volume for cement making.
The company also said that there were lower freight costs as a result of ready-for-operation modules and accessories optimised for transport. A short assembly time of three hours on site ensures time- and cost-saving handling, it added, saying that Minimix could be installed on a construction site with only one crane. Remote control allows unmanned operation.
It is a concrete mixing plant with a galvanised steel construction. The modules can be separated lengthwise and it has a transport width of up to only 3.5m. Relocation costs can be reduced by up to 50%, said SBM.
SBM said optimised processes and the latest technoclogies were behind the launch of its Towermix 3000 + 1500 ST D10 875 V. The plant comprises ten chambers for up to 875m3 of aggregates, as well as a store for seven different kinds of cement, situated directly on the premises of the site.
Weighing is carried out by a weighing machine and a state-of-the-art microprocessor control ensures precise controlling of all processes of the mixing plant, according to SBM.
Caring for the environment
For environmental protection, the plant is said to be provided with innovative recycling equipment for residual concrete. The residual concrete from the mixer trucks and the prefab element production can be reused in the mixing process.
US-based Allen Engineering Corporation, a company which makes site preparation and concrete finishing equipment, has added a new track buggy.
The AT14S is a swivel dump buggy that is said to allow the operator to place materials with precision. It comes equipped with a rugged track drive that the company claimed would allow it to operate in conditions that wheel barrows and wheeled buggies could not.
The swivel buggy allows the operator to turn the bucket 90º in either direction from the centre to provide maximum precision while placing materials.
AT14S travels at speeds up to 9.65km/h, and has a steel bucket for maximum durability. Allen said that the 838mm width allowed the buggy to fit through tight areas, while the engine cover folded back to provide convenient access to engine, gas tank, battery and filters.
Another US company, Airplaco Equipment Company, said its C-10SL Rotary Gunite Machine was now CE Certified and available for purchase in the European Union.
It said the C-10SL dry shotcrete machine came with decades of proven performance across multiple applications, such as swimming pools, concrete repair, bridge repair, retaining walls, soil stabilisation, refractory, mining and more.
All Airplaco machinery is built in the US and is ISO 9001:2008 certified. It claims a long history of selling throughout the world, and added that the CE designation played a key part in expanding business in Europe.
Ken Segerberg, vice president sales, said that the CE certification showed the dedication to quality it took in its manufacturing process, and allowed it formally to respond to the high demand of enquiries it received