Crane and piano act together
By Alex Dahm27 November 2020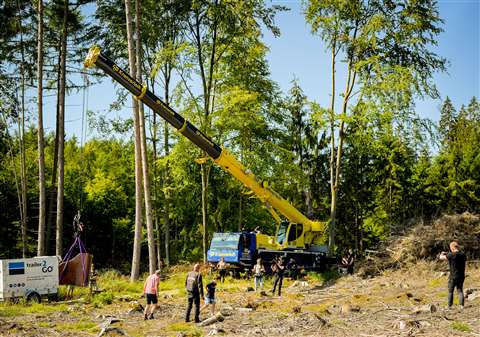 A piano may have been the star of a new short film but it wouldn't have been made without the help of a crane.
Muse is a short film about humanity and vulnerability by photographer and artist Sichtlich Mensch. For a scene in the movie a piano had to be hoisted into a forest clearing. Crane rental house ESB Kranverleih Transport und Hebetechnik from Mittelbiberach, Germany, chose a Liebherr LTM 1050-3.1 for the delicate task.
It was a valuable grand piano that had to be hoisted into a cleared section of forest near Erolzheim in southern Germany and then set up to be played. Karl Engeser, ESB managing director, had never done a job quite like it. "It was quite exciting to be part of a such an unusual project. After we received the enquiry, we first of all took a look at the location," Engeser said.
"We looked for a suitable access route and a place which had the required stability to set up the crane." After setting up the 50 tonner close to the clearing, the 400 kilogramme grand piano was hoisted into the required location from a distance of 25 metres.
As part of the film, volunteers gathered around the piano, stripping naked to express the vulnerability of humanity, Liebherr said. German pianist Dirk Maassen played atmospheric music on the piano.