Crane boom tangle injures 22
By D.Ann Shiffler17 September 2020
A tower crane and a lattice boom crawler crane became tangled several storeys above a building that was under construction in East Austin, Texas, USA. The mixed use development in the Mueller neighbourhood is one of the fastest growing areas of Austin and includes residential, retail and office space.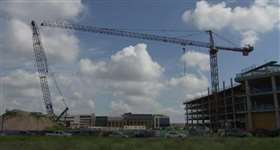 According to local news reports, 22 workers were hurt and 16 were injured and taken to area hospitals. None of the injuries were life threatening and most occured as workers were trying to leave the jobsite, it was reported.
Wire rope from the tower crane appeared to have become tangled with wire rope on the crawler crane's jib, causing the jib to swing downward but not fall. It is unclear if the two crane booms collided or how the wire ropes became tangled.
"We are in close contact with our subcontractors, local authorities, and our on-site team to better understand what transpired," Craig Morris, senior vice president for Cadence McShane, said in a statement provided to Austin news stations. "More importantly, we are working with the crane subcontractor and the fire department to ensure the damaged crane is safely dismantled. Since this is an ongoing investigation, we cannot provide additional details at this time."