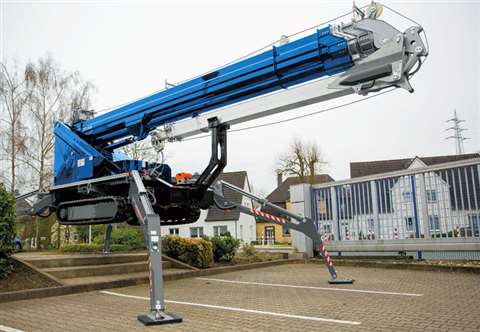 Crane manufacturer Böcker has announced a new crawler mounted telescopic boom crane, the RK 36/2400.
Capacity is 2.4 tonnes and the boom extends to 36 metres. Deadweight is low, at 4,650 kilogrammes, the German manufacturer said. Reach with a 250 kg load is given as 23 m.
Good travel performance on steep slopes, sand, gravel, wet and soggy grass, and other difficult ground are primary benefits of the crawler track undercarriage. In creep mode the crane travels at up to 2.4 km/h, while 4.5 km/h is the maximum in rapid mode.
An electric motor version can be specified instead of the standard diesel engine. Performance is the same, Böcker said, giving silent and emission-free working without loss of power. A remote control unit with a colour display and an automatic self-levelling function are additional features.
In addition to its use as a crane the RK 36/2400 can be converted for use as an aerial work platform. Its rotating basket can be mounted or removed using the Easy Lock system without tools, Böcker said. Applications include factory construction, glass and facade installation, gardening and horticulture.