Crossing the road with 2,000 tonnes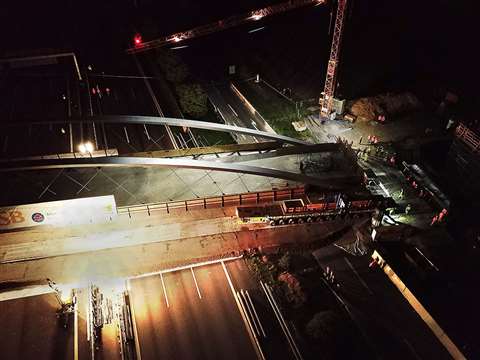 Heavy transport and lifting specialist Schmidbauer in Germany was under major time pressure to move a 1,500 tonne bridge on a motorway to its final destination.
Self propelled modular transporter (SPMT) from Scheuerle was chosen for the job which took the bridge along one of the country's busiest motorways. The 2,000 tonne combination was 130 metres long. After moving it the bridge had to be accurately set down on four piers.
Stefan Schmidbauer, Schmidbauer Group managing director and technical manager of the large crane and heavy lifting division ran the job with his experienced team.
Over a night in May 2020, Schmidbauer took charge of the operation. First was the transfer from the pre-assembly site in a field near the A8 motorway to the point of installation where it had to be positioned and set down precisely on four piers, Scheuerle said.
Planning the bridge transport took a year and by the end of it there was hardly any time left for the actual transport. The Schmidbauer team had to move fast overnight on the weekend because the road was reopening to traffic on the Monday morning. "Basically nothing could be allowed to go wrong during transportation," said Stefan Schmidbauer.
For adequate load distribution Schmidbauer used a total of 56 axle lines (224 wheels) of SPMT. It was arranged as four individual transport platform modules, each with 14 axle lines. They were driven in a loose coupling mode formation. Drive was provided by four Scheuerle power packs giving a total output of around 2,000 hp.
Crossing the road from the preassembly area to the jobsite was a distance of only 150 metres but it was decided that this should take two hours to help keep the bridge level. "The biggest challenge en route was to drive absolutely synchronously with the four SPMT transport platforms in a loose coupling mode," Schmidbauer said.
The centre distance between the platforms was 80 metres and there was seven metres between the transport modules widthways. Even though the route had existing paving compensation was still needed for height differences, both in longitudinal and transverse directions. "In particular, we had to make sure that the transport did not move into an inclined position due to the difference in height between the two lanes," Schmidbauer explained.
In addition to the Schmidbauer team, Scheuerle service technician Tobias Vesely was on hand to assist if necessary. "This is not the norm but nothing untoward was allowed to happen during this transport. Traffic flow on the A8 had to recommence on time. If there had been a technical problem, I could have helped immediately," said Vesely.
On the night of the move there was steady progress. "We had a maximum of two centimetres of play and thus had to work with corresponding precision", said Schmidbauer. Everything went according to plan. "The outstanding technical quality of the SPMTs contributed a great deal to the success of the operation," said Schmidbauer. "We will definitely be ordering additional SPMT axle lines."
See a video of the operation here: https://youtu.be/1llqmxByn9w