Digital focus for IPAF Summit
Adopting digital technology, utilising data and embracing lean management practices to deliver streamlined depots were among the themes of the 2019 Summit, hosted at the Radisson Blu Deira Creek Hotel, Dubai, on 6 March by the International Powered Access Federation (IPAF); the first time the event has been held in the Middle East.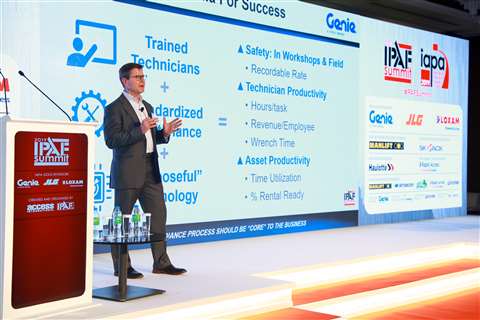 Matt Fearon, Genie President at Terex AWP, was the Summit keynote speaker and took to the stage to talk about using Lean management techniques to achieve excellence in MEWP fleet maintenance. "How do we use Lean as a foundation to remove obstacles?" he asked. "How can we use it to deal with data overload?"
Standardising maintenance and having a robust service technicians' training programme were among his "basics". "Just look for a little improvement, time after time after time," he said. Use a Lean production line for maintenance using simple techniques to plan and manage processes and to track them visually, he advised, referencing "future technology" that can aid this, including "cooperating machines", especially useful on huge worksites such as many of those in the UAE.
"You have to have your processes ready for the technology you are adopting, so do it little-by-little," cautioned Fearon, adding that rental companies should move "from fleet view to asset analysis". He also talked about the potential of augmented reality, "putting on glasses to walk around MEWPs and record maintenance tasks", for instance, while pointing out that powered access is still way behind the application of this technology in other industries, such as medicine.
On the theme of service technician training, Richard Whiting, IPAF's UK Market General Manager, talked about the new IPAF comprehensive Roadmap to Qualified MEWP Service Technician Status. "Whether it's a MEWP driver handy with a spanner or a budding apprentice looking for a clear career path, the new IPAF Roadmap to certified engineer status is designed to suit those within and without the powered access industry to build qualifications," he said. "We need to use this to attract new entrants to our industry, not just the younger generation using technology such as VR and simulators to hook them in."
Extended reality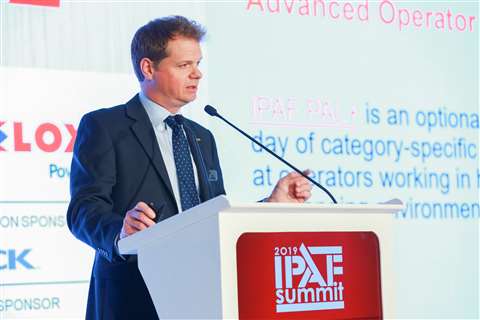 Giles Councell, Director of Operations for IPAF, had earlier talked delegates through IPAF's eXtended Reality strategy paper, much of which chimed with what Matt Fearon and other speakers had to say. One exciting announcement concerned IPAF's PAL+ advanced operator training, which is being adapted for use on a sophisticated MEWP simulator; offering more challenging scenarios and risk situations without ever leaving the ground. The same technology also offers opportunity for retraining, he said, and verifying operator competency on major construction sites, including those such as Expo 2020 in Dubai, which now requires all operators to be IPAF trained.
Andrew Delahunt, IPAF's Director of Technical & Safety, asked delegates about their knowledge and application of telematics. He used live polling to show that systems incompatibility is the major concern when implementing fleet telematics, with an overload of data identified as the least concerning aspect of this technology.
"Accident investigation is one area where there can never be too much data being tracked," he said, and that "integrated implementation can certainly improve site and traffic management". On the issue of too much data, he concluded "it's all about filtering, and deciding how and who we share the data with".
He outlined some of the other key benefits, such as using smart PAL Cards linked to telematic systems to ensure only correctly trained and familiarised operators are using MEWPs, again very important for applications on huge sites such as Dubai's Expo 2020 construction project. Tim Whiteman, CEO & MD of IPAF, later underlined the pledge "that every valid PAL Card worldwide will be a smart card by the end of 2019".
Major contruction
Talking of managing huge construction projects, Dr Wim Raath, Head of Safety at the Dubai South regeneration project, spoke about the iconic new landmarks planned including Expo2020 and airport expansion projects, that will anchor development in Dubai for many years come. Dubai South includes commercial, residential, logistics, aerospace and golf course "zones", he said, and around 1 million new residents and 500,000 jobs will be attracted by the development, which is currently the largest net contributor to UAE's GDP.
Dr Wim said: "I'm pleased that IPAF was able to arrange this magnificent summit. Dubai is a global gateway, because of the huge drive and vision of leadership in the emirate." He outlined investment of AED25bn (US$6.8bn) into this development expansion zone, with a view to vastly expand air passenger and cargo capacity, creating modern logistics hubs tailored for eCommerce, and with purpose-built office, logistics and commercial space aimed at "every type and size of business". "Dubai South is a growing city, please come and visit us to see and comprehend how big this project us," he concluded.
Continuing the theme of using technology to drive safety on major construction projects, were Benjamin Legg Corp VC, SHE, and Prakash Senghani, Digital Project Delivery Lead, from AECOM. Ben Legg asked: "Why is such a huge organisation as AECOM here today? Because our massive multi-national engineering business has many operatives exposed to risk while working at height, and we want to know how your industry can help us and what is the future."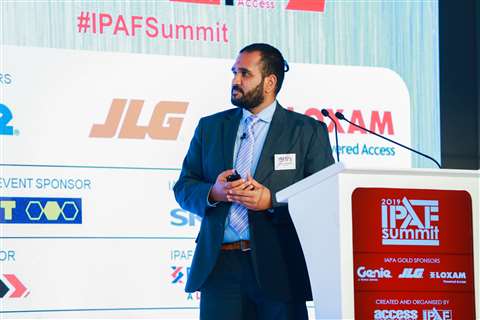 The pair presented on how Business Information Modelling (BIM) can aid safety. Prakash referenced IPAF and JLG's BIM MEWPs that are now available in global libraries, and how AECOM uses them in its designs to work out both how to construct and maintain new buildings. They also talked about VR applications, machine-learning and whether "chatbots" can automate safety messaging about projects or across businesses, which they have built into AECOM's safety assistant system AVA.
"Could it be extended to ask MEWPs to ask questions on familiarisation once operators have scanned a QR code to prove they have the correct PAL Card to operate that category of machine and is authorised to do so?" they asked.
Access challange
Touching on BIM and often frustratingly poor access statements in the construction, design and management (CDM) in such a fast-developing place as Dubai was Darren Williamson, Head of Technical & Operations at Spider Access and Vice Chairman, IRATA Middle East, Central & Southern Asia. Rope Access is important in Dubai, he said, "as construction booms and towers rise, it's often the only way to work on tall buildings as access for MEWPs becomes more difficult". He admitted rope access is "a challenge", but often the only way as buildings rise close to each other or landscaping around new buildings is done in a way that precludes powered access solutions.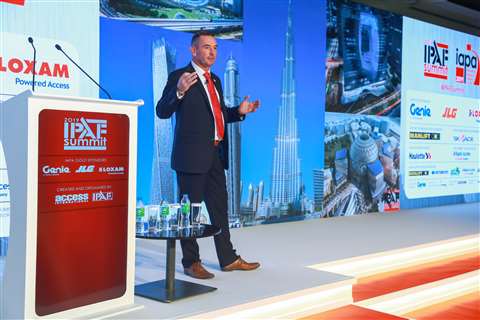 To anyone wondering why a rope access expert was invited to speak at a powered access summit in Dubai, he pointed out that many buildings across the region are too high, or operations too time-critical, to use boom lifts or scaffolding. Working with architects and consultants, he argued it is a good mode of access when done properly, but described a lack of emphasis on the maintenance element of CDM as "head-scratching".
After a lively panel debate on the impact of new technology on the industry and the maturity or otherwise of the market in the UAE, Jim Colvin, CEO of Serious Labs, wrapped up the presentations with his view on VR in powered access.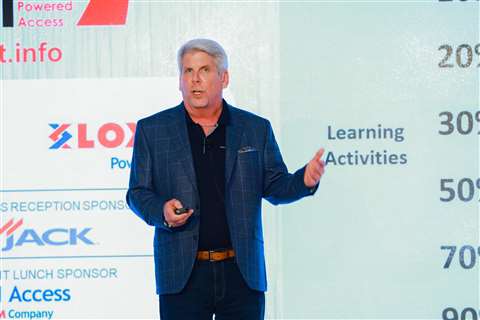 "With the global workforce shortage, we have to train people better, and people do learn better when they do things! The difference between a toy and a tool is in what it does."
Major contractors such as Mace and Riwal are "already using IPAF training and simulators for familiarisation and competency testing" in Odense, Denmark, he said, pointing out that Serious Labs is also working with United Rentals in the US on its blended learning programme, now certified and audited by IPAF. Serious Labs is also working with Rapid Access in the Middle East, he added, to assess competency for operators on machines they are renting, "which has helped double training throughput".