Doosan adds new excavator to demolition range
By Leila Steed03 November 2020
Construction equipment manufacturer Doosan has expanded its range of high reach demolition excavators with the launch of its new DX530DM model.
The DX530DM has an operating weight of 60.5 t and a maximum pin height of 27.5 m (90 ft) on the model's demolition boom. Doosan said this allows the DX530DM to provide a maximum reach of 16.5 m (54 ft) when fitted with a 3 t attachment tool.
In addition, the demolition machine's high reach boom has a modular design and includes a hydraulic lock mechanism, which enables it to be changed into two different earthmoving configurations. According to the equipment manufacturer, the modular design provides greater flexibility as different types of work could be undertaken on the same project with just one machine.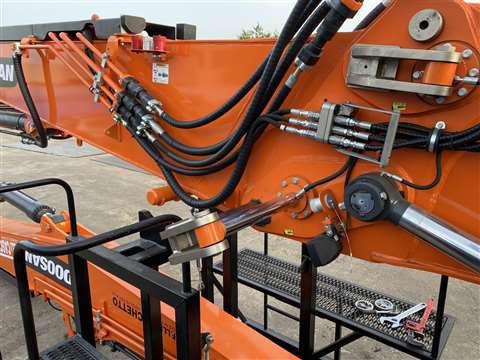 The DX530DM also features a cab that can tilt up to 30 degrees and a hydraulically adjustable undercarriage, which can be extend from 2.97 m (9 ft 9 in) wide to 4.37 m (14 ft 4 in) wide for improved stability on demolition sites.
The DX530DM model is the second of the company's new range to be made available to the European market. The first model, the DX235DM, was launched earlier this year and the Doosan's third high reach model, the DX380DM, is scheduled for commercial release in 2021.