ERA's TCO Calculator available on IRN website
By Murray Pollok10 January 2020
The European Rental Association's total cost of ownership calculator (ERA Equipment TCO Calculator) is now embedded within the IRN website and freely available for rental companies and others to use.
The calculator can be found at www.khl.com/magazines/international-rental-news/era-tco-calculator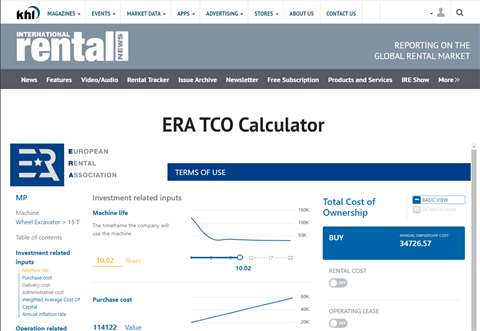 The calculator, developed by ERA for free use, allows buyers and users of equipment to calculate the total cost of ownership of a number of different 'standard' machines - general construction equipment, wheeled loader (>15 tonnes), tracked loader (>15 tonnes), wheeled excavator (>15 tonnes), crawler excavator (>15 tonnes).
The calculator also allows users to compare different ownership models: buying, renting, operating lease and financial lease.
The ERA encourages companies to embed the calculator in their own websites. Contact the ERA by e-mail at: era@erarental.org
For more information on the calculator, visit ERA's dedicated calculator webpages.