Eco pulleys from Rulmeca
By Leila Steed29 April 2019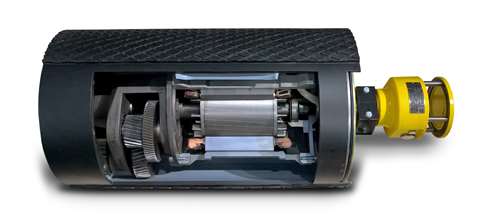 Manufacturer Rulmeca Germany has introduced its new generation of TM400 motorised pulleys.
The 400 millimetre diameter line has been completely renewed and is designed for applications with regular and constant operating conditions, such as magnetic separators.
The company said the new generation was significantly more energy-efficient. Rated at between 2.2 to 15.0 kilowatts, it has been increased by an average of 4.5 per cent under peak loads thanks to more efficient and high-performance electric motors. Rulmeca added that depending on the operating conditions, the resulting energy savings range from 1 to 12 per cent.
When using the 15.0 kilowatt class and working in two shifts with 90 % utilisation of nominal power, the average operating cost savings add up to € 467.00 per year (US$ 520.00), based on a comparatively cheap kilowatt-hour (kWh) rate of € 0.20 (US$ 0.22). The eco footprint also improves substantially as carbon dioxide output is reduced by 1.2 tonnes when using a conventional power mix.
According to Rulmeca, its improved housing around the transmission components has increased the MTBF (mean time between failure) of the motorized pulleys when the bulk material handling systems are in continuous operation.
With a space-saving integrated design, the hermetically sealed pulleys also include IP66/67 protected systems that Rulmeca said keep its lubrication and cooling oil in the engine and abrasives, such as debris, out of the system. Rulmeca said that as well as being virtually maintenance free and easy to install, TM400 pulleys are suitable for both challenging operating conditions and common bulk material handling systems.
Rulmeca said component standardisation meant the TM400 was more user-friendly and that local service providers could now replace defective motor windings themselves, thereby reducing downtime.
Available to pre-order now, the new generation will be available in series production in the fourth quarter of 2019.