Efficiency gains
By Richard High17 April 2008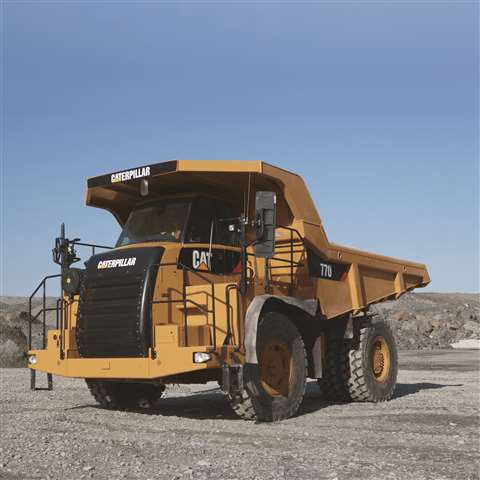 Operator comfort, safety, and ease of maintenance and service continue to be the themes that dominate customer requests when it comes to new haulers and series' modifications, according to most of the manufacturers CE spoke to. And new seats, more comfortable cabs and larger glass panels continue to provide operators with the ever-higher levels of comfort and safety being demanded.
Answering these requests, two of Volvo's latest haulers from its new seven model, Stage IIIA/Tier 3 compliant E Series include its newest initiative in the area of operator comfort: Full Suspension (FS). According to the company the A35E FS and A40E FS E Series variants are the world's first to offer a suspension with automatic levelling and stability control on all wheels.
This 'Full Suspension' provides "excellent off road performance", allowing the hauler to travel at much higher speeds and increasing productivity without tiring the operator, according to Volvo's director of marketing for haulers, Jonas Thoursie. "Even when fully loaded, the E-Series haulers' ability to 'float' over rough ground without bouncing and rolling also improves operator comfort and safety," he added.
Safety is improved thanks to the suspension providing significantly more ground contact. Compared with haulers with traditional suspension systems, vibration levels are also very much lower, allowing operators to work much longer before exceeding limits set in new European whole body vibration (WBV) legislation.
The last 12 months has seen a surge in interest in fuel efficiency right across the industry. "The cost of fuel has gone through the roof so fuel efficiency is becoming more and more important," said Vincent Migeotte, quarry and aggregates manager, Europe, Africa and the Middle East (EAME) and the CIS.
"Customers want more productivity, but they need to balance productivity and fuel consumption against fuel efficiency. The ultimate goal is to lower the cost per tonne, but trying to match new engine emissions to fuel efficiency has been difficult," he said.
A point echoed by Terex's engineering director, Paul Douglas. "With fuel costs up +400% in the last three years fuel efficiency is the biggest single issue our customers are talking about."
With this in mind the company had been working on various initiatives, including dual torque controls to maximise engine efficiency and keep fuel costs down, which has meant getting "closer" to its engine suppliers, said Mr Douglas.
Automotive technology - including the ability to switch the engines cylinders off during idling and lower energy demand - is also moving across, added Mr Douglas. The company, like others in the sector, has also looked at hybrid engines. However, Mr Douglas said this continues to be "20 years away for our type of technology".
New models
Besides Volvo's new E Series of ADTs (24 to 39 tonnes) Caterpillar introduced an ejector version of its 27,3 tonne capacity ADT at Bauma last year. The new 730 Ejector incorporates a load-ejection design and a Cat Stage IIIA compliant ACERT engine. And with demand in Europe mainly coming from quarry operators, according to Mr Migeotte, the 730 Ejector is joined by Cat's new F Series - 773F-775F-777F - and the 770 and 772, all of which are RDTs.
The "operator environment" of the 770 and 772 has been improved, said Mr Migeotte, with larger glass in the cab and better access to service points and improved ingress. "Most accidents happen here and so better inclined ladders, larger rear view mirrors and glass mean a safer environment for operators, who are becoming a more and more important part of the decision making progress when it comes to deciding which machine to buy," he added.
Also at Bauma, Komatsu launched its 91 tonne capacity HD785-7 rigid dump truck. Fuel consumption has been optimised with a variable horsepower control (VHPC), which matches engine power to working conditions, and other improvements include an advanced retarder braking system and multi-disc, oil-cooled anti-lock brakes.
Also unveiled at Bauma was Moxy's 46,3 tonne payload capacity MT51 ADT. The 374 kW Stage IIIA compliant machine started production in October last year and is claimed to be "the world's largest" ADT on the market today.
It joins the four other Moxy models - MT26, MT31, MT36 and MT41 - with payloads from 23 to 46 tonnes and engine outputs from 228 to 331 kW. The company is also about to start production of its first RDT, the AB51, since it acquired Aveling-Barford's range in 2005 (see box story).
Elsewhere, Terex's new 27,3 tonne TA30 features an independent front suspension that, like Volvo's FS, minimises WBV for the operator. The independent suspension system is now standard on all Terex TA30 trucks.
Growth market
Like most construction equipment sectors the hauler market is currently witnessing a buoyant period on a truly global scale.
Growth in the RDT market has mainly been outside Europe - southern Africa, South America, Oceania and the Middle East, according to Terex's Mr Douglas, with mining companies and large contractors forming the bulk of Terex's customers. "The market has grown tremendously in the last three years, particularly in the 100, 70 and 60 tonne class. However, above the 140 tonne class things have been fairly static," he said.
Africa and the Middle East are also proving to be lucrative markets for Caterpillar. "Commodity prices are up, so demand is up," said Mr Migeotte.
While Mr Migeotte told CE the RDT market in Africa and the Middle East is twice that of Europe, he said the region has seen consistent demand over the last 12 months, with Eastern Europe and the Nordic countries showing particular consistency.
"Growth is faster in the 'emerging countries' - Eastern Europe - while 'old Europe' is growing but at a slower pace," he said. In the next 12 months Mr Migeotte said he expected the European market to see a "slowing growth rate". However, he remained confident that Eastern Europe will remain positive, while Southern Europe and the Baltic States will see "some slowing down".
Volvo's Mr Thoursie echoed these sentiments telling CE demand in Europe over the last 12 months has been "strong". This should continue in 2008, he added, with Eastern Europe being "very good" thanks to the huge investments needed in its infrastructure.
According to construction equipment market research company Off-Highway Research, demand for ADTs in Europe recovered strongly in 2006 to a just over 2500 units, a rise of +27% compared with 2005. "The largest market by some margin remains the UK, where 815 units were sold in 2006, equating to 32% of the region's total sales," said Mr Phillips, with Germany, France and Spain also showing increases in demand.
"The future [for ADTs] looks quite promising, with the large volumes delivered at the beginning of the decade needing to be replaced in the near future. Sales should remain above an average of 2100 units a year," said Off-Highway Research's managing director, David Phillips.
Following sales of 615 units in 2005, the highest level for almost a decade, the RDT market in 2006 fell to 517 units. Spain continued to be the region's largest market, accounting for 41% of total sales (210 units), far ahead of the next largest market, France (71 units), said Mr Phillips.
Mr Phillips forecasts total demand in 2007 will fall to 450 units, largely caused by the downturn anticipated in the Spanish construction market.
Lead times
The shortage of tyres and the effect this is having on the supply chain continue to be problematic. "Like everyone else we're affected," said Cat's Mr Migeotte. Like other companies Cat has looked at alternative suppliers, mainly in Russia and China.
And with some customers waiting three months to get tyres Mr Migoette said Cat had worked hard to secure agreements with the major tyre companies - Goodyear, Bridgestone and Michellin - that would secure tires for its large equipment.
Many alternative suppliers have worked hard to improve the cost and wear life of their products but Mr Migeotte said Cat was urging its customers to "make sure they fit the best tires they can afford" in order to safeguard their production levels.
In terms of demand, there looks to be no let up. Volvo, Terex and Cat all see demand continuing to rise through late 2007 and beyond.
According to one source CE spoke to there should be some growth in supply from Bridgestone. While the company sees a deficit of 6000 tyres per year at present it has said it will invest US$ 300 million (€ 202 million) in new production plants.
This will add +20% production capacity to its large tyre facility at Shimonoseki, while a new plant at Hidikinada, which will add an additional +20%. These additional facilities will be on line in about 3 years+.
The new facilities will primarily focus on production of 57" and 63" tyres (1,45 and 1,6 m). These are used in trucks up to 400 tonne payload capacity, which is where it sees the maximum return on its investment. However, there are no plans for expansion of production in Europe at present.
Outlook
Almost all the manufacturers CE spoke to remain positive that the European hauler sector will maintain the same levels of growth seen over the last 12 months. Infrastructure expansion in Eastern Europe looks like being one of the biggest drivers behind the high demand, while gas and oil pipelines from Russia and beyond also look like bolstering demand.
While the shortage of tyres looks like being problematic for the short term, all the major players - Goodyear, Bridgestone and Michellin - are in the process of either commissioning new plants or expanding their current production facilities. Which means there is an end in sight to the long lead times experienced by contractors and rental companies at present.