Emsley Crane Hire adds to fleet
By Christian Shelton22 May 2017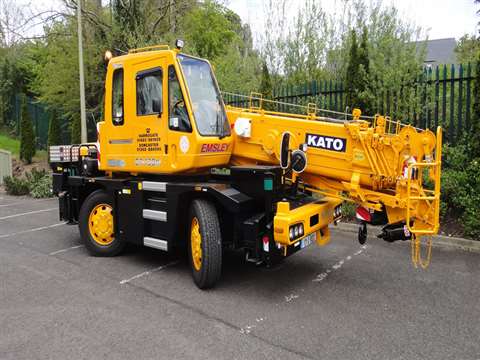 In the UK, Yorkshire-based Emsley Crane Hire has added a new 13 tonne Kato CR-130Ri city crane to its fleet. The crane was supplied through Kato's European distributor, Rivertek Services.
The new addition is to replace a Kato CR100 which, according to Emsley Crane Hire's managing director, John Emsley, served them well over the years.
Emsley Crane Hire purchased its first City Crane in 1998 and is celebrating 70 years in business this year. John and Peter Emsley run a fleet of 60 cranes from their Harrogate and Doncaster depots.
John Emsley commented, "through the years we have purchased over 20 new Kato cranes and they have always been a very reliable and a fantastic crane. This new crane is the first of many Katos that we plan to bring back into our fleet. It is a quality crane that is always in demand and we are very happy with the service and attention to detail shown by Rivertek."
Tom Quinlan at Rivertek added, "demand for this quality range of Kato City cranes has been growing steadily as owners and operators become more familiar with the capabilities of the Kato Crane. The 13 tonne Kato has a 24 metre main boom, a 5.5 metre hydraulic luffing fly jib, and outrigger length sensors. It is a compact, versatile crane that offers capabilities not available from other manufacturers. We are delighted to supply this crane to Emsley Crane Hire and look forward to working with it again in the future."