FEATURE: Early adopters
By Joe Malone21 December 2016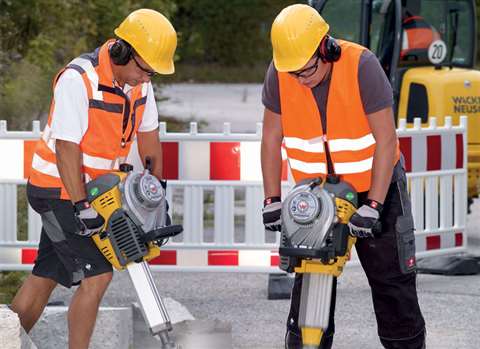 As both a manufacturer and a sales company, Wacker Neuson believes it knows the key features of any rental product.
The German company says rental machines should be economic, efficient, robust and safe. Moreover, suppliers need to look at customer needs as early as the product development stage. For rental companies, equipment should be so user-friendly that it is easy to work with even for occasional users.
As a result, the company's BH55 and BH65 breakers BH55 and BH65 are known for being easy to handle. The BH55 offers 1,300 blows a minute with 55 J of single stroke impact energy, and the BH65 1,250 blows with 65 J.
Combining high impact speeds with a light striker means the breakers have become suitable for demolition applications in particular. The WM80 engine, which drives both hammers, has been developed by Wacker Neuson, while the open and self-cleaning percussion system allows maintenance on site to save on time and service costs. Refuelling is possible while the unit is in a vertical or horizontal position.
In total, Wacker Neuson offers a range of six breakers, including a special product for tamping railway ballast.
Elsewhere in Germany, Atlas Copco's approach to product development won the company the Innovation Medal at the recent GaLaBau show in Nuremberg.
The item being honoured was the Rtex breaker, which the company launched at the start of 2016. Its design enables a 50% reduction in compressed air usage, and its breaking force is equal to a 30+ kg breaker despite weighing 25% less.
At this year's Bauma, the company followed up the launch of the Rtex by showing the SB 1102 hydraulic breaker. With a solid body and one-piece housing it has beome popular on a range of construction and demolition jobs. Atlas Copco says its research and product design make for lower fuel consumption, lower vibrations and less noise.
More recently, it has introduced the Cobra PROi, said to be the first petrol breaker with electronic fuel injection (EFI) providing 10% more power at all working speeds while saving the same amount on fuel consumption. The machine is described as easy to start in almost any climate, or at any altitude, with the breaker needing less routine maintenance.
The EFI concept is based on an integrated mechanical fuel pump with a system that keeps constant pressure to the regulator without the help of electricity. While standard EFI systems require 3 bar pressure in the fuel system, the PROi needs just 0.2 bar. Weighing 24 kg (53 lb), it fits easily into the boot of a car.
Caterpillar work tools are designed to function as an integral part of the machine. The company designs, engineers and manufactures its own hammers and all work tools are performance-matched to Cat machines and also suit other machine brands.
With 23 hammers starting from machines as small as 0.8 t, applications include landscaping, residential and commercial building, and demolition. Popular rental options range from the H35E (130 kg or 286 lb operating weight) to the H95E (730 kg/1,609 lb). They are used on skid steer loaders, multi terrain and compact track loaders, mini excavators and backhoes.
Among the newer products available is the H80E/Es hydraulic hammer, designed for the full range of Cat backhoe loaders and for 307 and 308 excavators, is available in both conventional (H80E) and silenced (H80Es) versions. It delivers 1,356 J of energy at 600 to 1,500 blows per minute.
It has a lighter operating weight than its predecessor, resulting in greater working stability and increased carrier fuel economy. In addition, the new hammer accepts a wider range of hydraulic-oil flow, allowing the H80E/Es to be used with a variety of carrier brands for optimum use in mixed fleets.
The E-Series hammers range builds on the features of the previous D-Series, including an automatic shut-off system that instantly stops hammer operation when the tool breaks through material.
For less regulated markets, Caterpillar Work Tools has made available the B20, B30 and B35 top mount hydraulic hammers with Cat hydraulic kits. The B-series, which is being sold into Africa and the Middle East expands the Cat hammer range designed for LRC market applications and customer needs.
The products combine optimum power-to-weight ratio with simplicity and cost effectiveness for the increasing trend in end-user countries of using hammers in municipal, general construction, demolition, quarrying and mining applications.
UK-based JCB Attachments has doubled the number of hydraulic breakers designed to work with its excavators, backhoe loaders and compact machinery, with the launch of the Contractor hammer range. Contractor breakers will be available alongside the existing Professional range of hydraulic hammers. Both Professional and Contractor breakers will now be supplied with a three-year warranty.
Contractor hydraulic hammers have been designed for customers looking for a solution working in less arduous conditions.
The range includes 13 models, from the compact HM012T at 100 kg (220 lb) operating weight – suitable for mini and micro excavators – through to the 3.8 t HM380T designed to work with excavators in the 46 to 50 t category.
All Contractor breakers have accumulators to protect the carrier machine from hydraulic pressure spikes, reducing possible wear and tear on the hydraulic system. Hammers for use with equipment above 11 t in operating weight come as standard with a refillable auto greasing system, ensuring the breaker always receives the correct amount of lubrication throughout the working day. This cuts downtime and boosts productivity for the customer.
With years of experience in compressed air technology, French company MAC3 continues to innovate in pneumatic hammers and breakers to meet the needs of professional users.
The French manufacturer's complete range includes pick hammers from 5 to 13.6 kg (11 to 30 lb), as well as paving breakers from 17 to 38 kg (38 to 84 lb).
MAC3 which has developed the BB and Airgo ranges of breakers, has also come up with a new internal design to reduce operating expenses.
At equal weight class, MAC3 pneumatic hammers use an average of 40% less compressed air than the equivalent hammers on the market. This is a significant benefit to the user, not only because the low air consumption will generate the savings, but also because MAC3 hammers will need smaller compressors to power them. Indeed, a 90 cfm compressor can run two 60lb MAC3 paving-breakers, while equivalent competitor tools will need at minimum 130cfm compressor.
Lubrication of pneumatic hammers, too often neglected, is another issue to the users. Thanks to an expert design, coupled with suitable and high-quality heat treatment, MAC3 pneumatic hammers and breakers do not require any additional external lubrication.
Light construction equipment specialist recently launched a newly upgraded "Eco" Midi 20-litre power pack and BHB25X low vibration hydraulic breaker.
Altrad Belle says the products will appeal to rental companies and contractors because of the power pack's "Power on Demand" feature. This offers environmental benefits through reduced carbon emissions – it only increases the engine speed when the breaker is being used, resulting in a saving of around 50% on fuel use.
Routine maintenance is also made easier especially as access is through a quick and simple removal of the main protection frame
The company also expects rental companies to benefit from the BHB25X breaker in terms of servicing costs. It is described as completely serviceable without the need to re-gas after dismantling, which could otherwise be a costly and timely necessity.